Saving
Martha's Fudge Peanut Butter Brownies

By Martha Thompson, Director of Guest Relations
Ahhh, the combination of chocolate and peanut butter! I recently tweeted that I made my killer Fudge Peanut Butter Brownies for a group that was visiting Financial Peace Plaza. Within minutes, I was bombarded with requests to share the recipe. So here it is, one of my most popular desserts. People will soon be asking you to share the recipe with them!

Brownies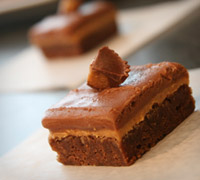 1 cup of butter (2 sticks, no substitutions)
1/3 cup Hershey's Cocoa
2 cups sugar
1 1/2 cups all-purpose flour
1/2 teaspoon salt
4 large eggs (at room temperature)
1 teaspoon vanilla extract
1 (18-ounce) jar peanut butter
Melt 1 cup butter and 1/3 cup cocoa in a saucepan over low heat until butter melts, stirring constantly.
Remove from heat and cool slightly.
Combine sugar, flour and salt in a large mixing bowl.
Slowly add chocolate mixture and beat at medium speed with an electric mixer until blended.
Add eggs and vanilla, beating until blended. Do not overbeat.
Spread mixture into a greased 15 x 10 inch jellyroll pan. (Note: Any other pan could result in dry brownies, undercooked brownies or the mixture overflowing the pan. You can find jellyroll pans at Bed, Bath & Beyond or Williams-Sonoma.)
Bake in 350-degree oven for 25–30 minutes. Every oven is different, so I recommend inserting a toothpick in the middle of the brownies and making sure it comes out clean. If not, cook one minute at a time until done. Don't overcook.
Peanut Butter Topping
Spoon mounds of peanut butter across the top of the hot brownies. As peanut butter begins to soften and melt, gently spread evenly across the top of the hot brownies.
Let cool completely, and then chill for 30 minutes until peanut butter sets up firm.
Fudge Frosting
1/2 cup of butter (1 stick)
1/3 cup whole milk (no substitutions)
10 large marshmallows
1/4 cup Hershey's Cocoa
1 (16-ounce) package powdered sugar
Local experts you can trust.
Find an ELP
Cook 1 stick of butter, milk and marshmallows in a large saucepan over medium-low heat, stirring constantly until marshmallows melt.
Remove pan from heat and gradually sift in 1/4 cup cocoa, beating with a hand mixer until smooth and creamy.
Sift powdered sugar and gradually stir into cocoa mixture with hand mixer until smooth.
Spread frosting over peanut butter; place back in fridge and chill at least another 20 minutes so fudge frosting will set.
If not serving immediately, cover with foil and keep in fridge.
To serve, trim off all of the edges of the brownies. Cut into small squares (these are very rich). Optional: Garnish each piece with 1/4 of a miniature peanut butter cup. Best served at room temperature.
Enjoy!
Get more recipes and behind-the-scenes news straight from Martha by following her on Twitter @marthas_place.