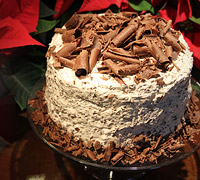 By Martha Thompson, Director of Guest Relations
I often use the phrase, "I'll bring dessert." To my friends serving as the dinner party host, it takes off a little pressure and saves them time and a little money. To the person offering, it means, "I get to bake again," so I say it a lot! However, if you are asked to bring the dessert to a party and these words make you anxious, then I've just come to your rescue with this stunning, yet easy to make, Milk Chocolate Candy Bar Cake!
I found this recipe several years ago in a magazine. It is always a huge hit whenever I make it. This recipe is not about the cake, but instead all about the icing! In fact, the recipe has you start with a store-bought chocolate cake mix. But no one will ever guess!
Cake
Purchase your favorite chocolate cake mix and prepare the batter according to package directions. Pour into 3 greased and floured 8-inch round cake pans.
Bake at 325° for 20 minutes; test with a wooden pick inserted in center. If it is wet, then continue baking, testing after one minute until the pick comes out clean. All ovens are different, so make sure that you don't over-bake.
Icing
1 (8-ounce) package cream cheese, softened to room temperature
1 cup powdered sugar
1/2 cup granulated sugar
10 (1.5-ounce) milk chocolate candy bars with or without almonds (I leave them out for those folks who do not like nuts.)
1 (12-ounce) container of Cool Whip, thawed
Chop 8 candy bars finely. Set aside. Chop last 2 candy bars and keep separate for decorating cake. (I use a food chopper for this.)
Beat softened cream cheese, powdered sugar and granulated sugar at medium speed with an electric mixer until mixture is creamy. Fold the 8 chopped candy bars into your cream cheese mixture. Then fold the whipped topping into your cream cheese mixture until thoroughly mixed. Set icing in refrigerator to chill. This will help it set up while your cake completely cools.
Spread icing (about 1/3 cup between layers) and finish off on top and sides of cake. Take the remaining 2 chopped candy bars and press around the bottom edge of your cake to decorate.
Chocolate Curls
Make a small tray out of aluminum foil about the size of a candy bar and set aside. Melt 1/2 of a small bag of milk chocolate chips in microwaveable bowl for 1 minute. Stir until creamy, and immediately pour into your handmade tray. Refrigerate until cooled and hardened.
Peel off foil and hold bar in your hands to slightly soften. Take a carrot peeler and run down the length of the bar to make a curl, dropping curls onto the top of your cake. Repeat until your cake is topped with a pile of chocolate curls.
Store prepared cake in your refrigerator until 15–20 minutes before serving.
Martha's tips for the novice baker:
This recipe calls for an 8-inch pan. Do not substitute 9-inch pans. Your cake will be too thin and much too dry.
I line the bottom of my pans with a circle of waxed paper, sprayed with baking spray and dusted lightly with flour. The cake always falls out easily.
Note that you bake this cake in a 325 degree oven, not 350 degrees, which will be what the cake mix directions call for.
When baking your 3 layers, do not let your pans touch each other or the sides of your oven. This makes the pans hotter than you want and the edge of your cakes will be over-baked.
Cool your cakes 10 minutes in the pan and then turn out to finish cooling on cake racks. This stops the cake from continuing to bake in your warm pans. Do not turn out before 10 minutes or your cake will split.
Only use 12 ounces of Cool Whip. If you cannot find a container that size, then carefully measure your Cool Whip. Too much will make your recipe the wrong consistency and create a landslide between your cake layers.
To "fold" is a gentle way of combining Cool Whip (or other light ingredients like whipped cream, beaten egg yolks, etc.) so you will not deflate it. A rubber spatula is used to combine ingredients by scooping to the bottom and folding it over the top. Repeat until your icing is thoroughly mixed.
Get more recipes by following Martha on Twitter @Marthas_Place.