By Martha Thompson, Director of Guest Relations
Although summer officially ends in mid-September, we all know that the unofficial end is Labor Day. So before school routines set in and the pace of life picks up again, enjoy one last casual get-together with family and friends to say farewell to the lazy days of summer.
Consider a laid-back celebration starting with one of my favorite make-ahead entrees: slow-cooked barbeque. Ask your friends to bring their favorite sides made from the season's bounty of fresh vegetables and fruits. Sweet corn on the cob, chilled salads, and a dessert made with ice cream or summer berries are just a few great ways to complete an easy summer menu.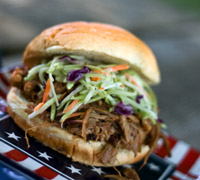 Southern Style Pulled Pork Barbecue
Does it seem like your annual Labor Day get-together inevitably ends up on one of the hottest days of the year? If so, forget the standard grilled barbecue fare. Rather than sweat over a hot grill, fall back on this delicious Southern style, slow-cooked entrée.
1 5-lb boneless pork butt or shoulder
2 tablespoons chili powder
1 tablespoon onion powder
2 teaspoons salt
1 1/2 teaspoons garlic powder
1 teaspoon freshly ground pepper
Pinch of cayenne pepper (optional)
2 cups bottled barbecue sauce
12 soft hamburger buns
Coleslaw (store-bought or your favorite recipe)
Makes 8 large sandwiches or 10 regular sandwiches.
Rinse pork and pat dry with a paper towel. To prepare your barbecue rub, combine chili powder, onion powder, salt, garlic powder, pepper and cayenne (if using) in a small bowl. Once mixed, rub seasonings into your pork on all sides. Cover and marinate in the refrigerator overnight.
Place 1/2 cup of water and your pork in a slow-cooker and cook on lowest setting 10 hours. Transfer to a cutting board and, using 2 forks, shred; discard any pieces of fat. Transfer broth in cooker to a fat separator; drain off fat. Return pork to slow cooker. In a bowl, combine your favorite barbecue sauce and 3 cups of broth from the slow cooker; stir into pork and cook on low 2 hours more. Serve pork on soft buns, topped with coleslaw. Strain sauce into bowl and serve on the side if desired.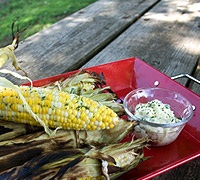 Sizzling Grilled Corn on the Cob
I have to admit, the one dish worth heating up the grill for is fresh corn on the cob. Follow the first step below to prep ears of corn. Fire up the grill and throw on the corn to roast at medium heat for 25–30 minutes, turning occasionally to grill evenly. Do not cover with grill lid while corn is cooking. Serve corn hot from the grill for a sizzling summer treat!
8 ears of corn
1/2 cup of butter, softened
2 tablespoons finely minced fresh basil
2 tablespoons finely minced fresh parsley
1/2 teaspoon salt
With corn still in husk, soak in cold water for 30 minutes. Meanwhile, in a small bowl, combine the butter, basil, parsley and salt. Carefully peel back cornhusks to within 1 inch of bottoms. Remove silk by rubbing ears of corn with damp dishcloth. Spread butter mixture over corn. Rewrap corn in husks and secure with kitchen string.
Grill corn over medium heat for 25–30 minutes or until tender, turning occasionally. Cut string and peel back husks to serve.
If you prefer the quick and easy way to prepare fresh corn on the cob: Shuck and clean silk from your ears of corn. Bring a large pot of water to a boil; add corn. Reduce heat; cover and simmer for 5 minutes. Remove from water and serve immediately with the butter recipe above. For a sweet corn-on-the-cob butter, add 2 tablespoons of honey to your 1/2 cup of softened butter. Spread on hot ears and serve immediately.
A fuss-free celebration allows you and your guests to sit back, relax, and catch up on what everyone's been up to this summer. Stay out late and enjoy the final strains of summer's nightly serenade before homework, after-school activities, cool weather and early sunsets force us all indoors once again!
Get more recipes and goodies by following Martha on Twitter @Marthas_Place.