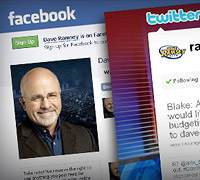 Facebook and Twitter are two of the best places to catch behind-the-scenes glimpses and the most current updates from Dave and his team. Check out some of things you missed in March if you have yet to friend Dave on Facebook or follow him on Twitter:
Without a mission statement, you may get to the top of the ladder and then realize it was leaning against the wrong building! – @DaveRamsey
Microsoft, Chick-fil-A & Hobby Lobby all launched in TERRIBLE economic times. EntreLeaders know how to win despite the bad headlines. – @DaveRamsey
Setting a goal doesn't guarantee success; it just gives you a target. You still have to work your tail off to hit it. – @DaveRamsey
Tweeps...Thanksfor 40,000 followers in just two months!!! You guys rock!!! Keep spreading the word. Duh Winning!! – @DaveRamsey
Thanks KC! 10,000 crazy screaming future millionaires! Love that city! – @DaveRamsey
I totally forgot to wear green today [St. Patrick's Day], but I have cash in my purse… does that green count? I'll answer that… heck yes it counts! Go green! – @RachelCruze
The LOVE of money is the root of all evil. If you love money more than you love people, your life is going to be miserable. – @RachelCruze
May God grant you a dream so humanly impossible that its improbable success can only point to his glory, not your own. – @JonAcuff
I now use Google as a dictionary. If I can't spell something I just guess and let the Google results ask, "Did you mean:" – @JonAcuff
Upset about gas prices but love your lattes? The avg latte costs $3.59 for 16 oz. That's 22 cents per ounce (or $28.72 a gallon!) – @RamseyShow
88% of graduating college seniors have credit card debt...before most of them even have a job! – @RamseyShow
Follow us now on Facebook and Twitter to keep up to date in April!