Yesterday was a monumental day in the history of The Dave Ramsey Show.
For more than 20 years, Dave's show has helped caller after caller find hope with their money. Today, a new era of the show begins.
What are we talking about? Well, yesterday we launched The Dave Ramsey Show Video Channel. You can find all the details about the new channel here.
As we begin a new era of The Dave Ramsey Show, we thought now would be a great time to look back at how far we've come.
Take a trip with us down memory lane as we look back at the show over the last 20 years and remember many of the reasons The Dave Ramsey Show has become what it is today.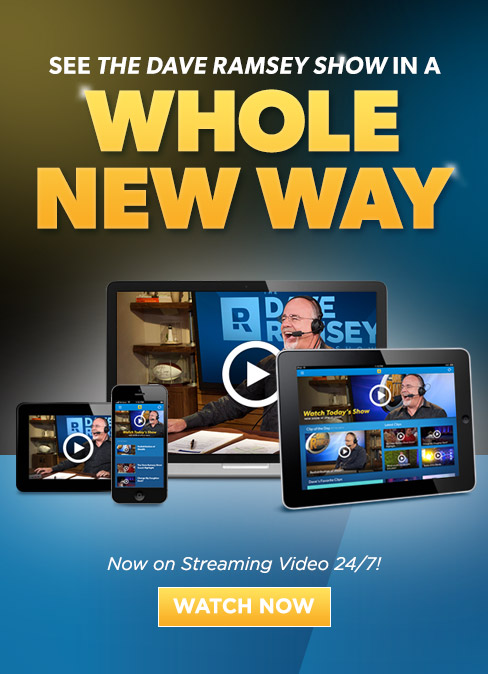 The Callers
The team remembers some of the more memorable callers in the history of The Dave Ramsey Show as well as some impressive numbers that highlight the show's impact over the last two decades. Read more.
The Team
Everyone knows Dave, but do you know the people behind the scenes who make The Dave Ramsey Show tick? And how do they help the show reach millions of listeners every day? Find out how Dave, Blake, Lara, Matt, Zack and Kelly work hard to bring the show to an audience of more than 5 million listeners.
The Stations
It all started at a small studio in Nashville. Fifteen years later, The Dave Ramsey Show is broadcast to more than 500 stations every day. Here's how it happened.
The Studios
Dave's studio in Nashville is pretty fancy these days, but the first few studios were makeshift, do-it-yourself projects. Dave and his producers relive some of the early days filled with faulty chairs and cold pizza. Read more.
The Future
What's next for The Dave Ramsey Show? What does Dave expect the show to look like in 10 years? Dave and his team members take a look at what the future might hold.
Without you, The Dave Ramsey Show wouldn't be what it has become. Thank you for tuning in every day and giving us the opportunity to share these memories with you!
Head over to the new video channel and let us know what you think about this new format for Dave's show.