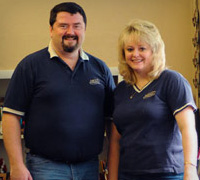 A Business Of Hope
After attending EntreLeadership, Lyn and Kirk Goodwin "have the vision to go from a good business to one of excellence."
Their goal was to run a business of hope. And for more than seven years, Lyn and Kirk Goodwin have done just that by teaching special needs children in their hometown of Akron, Ohio. Through their good works, the founders of the S.U.P.E.R. (Students Using Proven Educational Resources) Learning Center are changing the lives of hundreds of kids with autism, Asperger's Syndrome and other developmental disorders.
But sometimes even the most dedicated, caring people need some advice and inspiration. That's why the Goodwins traveled to Orlando, Florida this spring to attend Dave's EntreLeadership Master Series.
"Our business is at a point where we want to take it to the next level, and we need some help," Lyn said. "We thought the Master Series was a great way to get some training and some excellent advice."
The next level, indeed. S.U.P.E.R Learning Center has partnered with 16 school districts throughout the state, with three new ones coming on board in September. Currently, the Goodwins lead 19 team members and will soon hire more. Since the school opened, it has become Ohio's leading cognitive development center and autism school.
While at EntreLeadership Master Series, Lyn and Kirk said they learned many valuable lessons and have begun implementing several of them. One of the most important, they believe, was Dave's advice on turning team members into leaders.
"We have dynamic, excellent teachers," Lyn said. "But by bringing out more of an awareness of leadership, our team has become more cohesive, which has benefited everyone."
Kirk agreed. "Dave taught us to share our hearts, what we saw God doing with our business, the staff and kids," he said. "The change has been amazing. It just seemed to ignite our staff."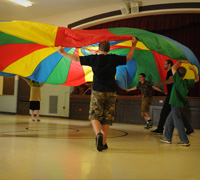 Taking Leadership to the Classroom
The students, too, have grown as a result of the Goodwin's trip. This fall, many of them will take on more of a leadership role.
The students, too, have grown as a result of the Goodwin's trip. This fall, many of them will take on more of a leadership role. "We've already started placing some of them in our office as student assistants," Lyn said. "Knowing that being in the office is a privilege and a position highly valued, they are willing to do more things in the classroom they might otherwise find mundane. It gives them a sense of pride and community."
Another change is to the school's website. It was in the process of being launched just prior to the couple attending Master Series. After the event, Kirk tweaked it even more. "We learned to look at marketing a bit differently," he said. "It's really just an overall change in focus—how we can serve others even more than we did before."
For the future, Lyn and Kirk plan to continue implementing the lessons they learned at Master Series. They agreed that if there ever was an EntreLeadership Ph.D. Series, they would be the first to sign up. "When we came to EntreLeadership, we felt like we had a good business," Kirk said. "But now we have the vision to go from a good business to one of excellence."
No leader should lead without these principles. It's what your team members need to see in you, and what you want to see in them. Learn more about the EntreLeadership Live Events, and put Dave's 20 years of proven business principles to work for you.
In 20 years, Dave has grown his company to a national winning brand with more than 300 team members who have impacted millions of lives. His company has been named one of the "Best Places to Work in Nashville" four years in a row. EntreLeadership is how he's done it and how you can do it too. Get your copy of the new book now!