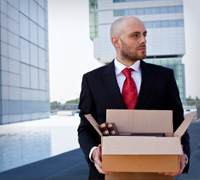 Freddie Krueger, step aside. Dracula? Please. Many business owners and leaders have to face something that's much scarier than any Halloween horror story: firing someone. In fact, according to an article in The Wall Street Journal, discharging a team member is one of the top three causes of stress for business leaders.
Letting someone go is not easy or comfortable, and it should never be your first option when dealing with an employee that's not up to par. You want your team members to soar. If there is a problem, give them every opportunity to fix it.
As Dave teaches in EntreLeadership Master Series and in his new book, EntreLeadership, "you owe your team members lots of clear, even blunt, communication about what is required to change their behavior." Their course corrections begin with a verbal reprimand that should:
Be short. It's not War and Peace. Get to the facts and get the reprimand over with.
Be uncomfortable for everyone. Neither you nor the team member should enjoy this process.
Attack the problem. Ken Blanchard, author of The One Minute Manager recommends the "Reprimand Sandwich," and it's great advice. Begin with praise, then talk about the problem, then top it off with some more praise.
Be private. Want to lose a team member's loyalty forever? Reprimand them in front of someone else.
Be gentle. Kind and clear are the key words here. Anything else and you've lost the teachable moment.
Sometimes, unfortunately, some staffers simply need to hit the road, and you must have the courage to pull the trigger when it's time for them to leave.
Like hiring, there are components to firing someone. They include:
Taking your time.
Discharging someone should never be an easy decision, and the decision should NEVER be made in anger. A team member should have already gone through the reprimand process and clearly understand what they are being fired for.

However, there are two exceptions to this rule. If there is an integrity issue or they are caught stealing, then say goodbye that very day. That's a fundamental moral breakdown that you'll never be able to course-correct. If the team member is still in a probationary period and the behavior continues, the same holds true. They should be quickly let go.


Following the Golden Rule
No matter how bad a job the person did or what they have said, always remember you are messing with their life. They are losing their job and deserve to be treated with dignity, compassion and generosity.

The easiest way to accomplish this is by following the Golden Rule: "Do to others as you would have them do to you." (Luke 6:31). Put yourself in their shoes, and then act the way you'd want to be treated if you were being fired.
Being in charge is tough, especially when it comes to letting a member of your team go. It's a difficult decision. But if it's done correctly with a lot of forethought, you'll earn the admiration and respect of your team and be well on your way to becoming a great EntreLeader.
No leader should lead without these principles. It's what your team members need to see in you, and what you want to see in them. Learn more about the EntreLeadership Live Events, and put Dave's 20 years of proven business principles to work for you.
In 20 years, Dave has grown his company to a national winning brand with more than 300 team members who have impacted millions of lives. His company has been named one of the "Best Places to Work in Nashville" four years in a row. EntreLeadership is how he's done it and how you can do it too. Get your copy of the new book now!