Learn How to Live and Leave a Legacy With The Legacy Journey
As you get older, something weird happens.
You might first spot it in the mirror or hear it in the tone of your voice. Even then, it may require the observation of others followed by years of denial before you finally come to terms with the truth.
You're a lot like your mom or dad.
Maybe your laugh ends with a snort, you constantly switch lanes on the highway, or your heritage is recognizable from your backside. Like it or not, you've inherited a few things from your folks.
That's legacy—your parents passing something down to you. Of course, not everything we receive from our parents is so lighthearted. And not all of it is good.
Your legacy matters.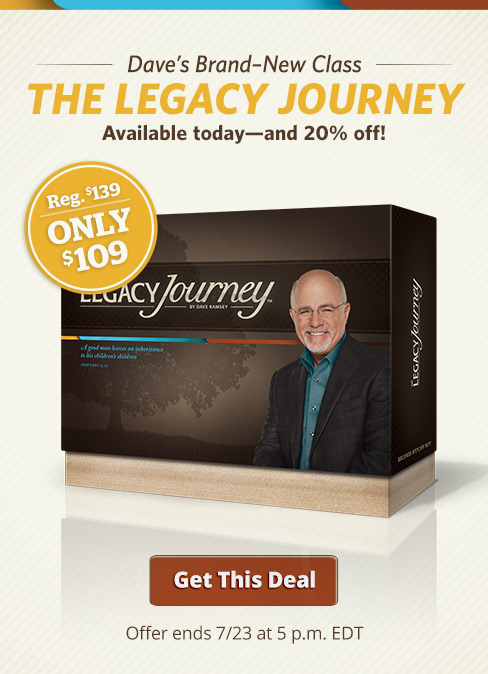 That's why Dave is offering a brand-new class called The Legacy Journey. As the much-anticipated follow-up to Financial Peace University (FPU), this class confronts the issue of legacy head-on.
Proverbs 13:22 says, "A good man leaves an inheritance to his children's children."
If you follow Dave's principles regarding money, you'll eventually have more of it. And if you learn to manage that money well, you can bless your family and community with it for years to come.
Unfortunately, the opposite is also true. Don't prepare your finances for the future, and you may end up leaving your loved ones in a state of utter confusion. If you've been there before, it can be pretty painful. Setting your money on a path that protects your family is a powerful way to express your love. That's a big part of what The Legacy Journey is all about.
Local experts you can trust.
Find an ELP
But it's just one part. Leaving an inheritance to your children's children involves more than money. Your legacy can also include good character, strong integrity and a heart of contentment. It's just as much about the one you leave to the next generation as the one you're living right now.
You've got to take action!
If you want your kids to inherit more than the shape of your nose, you've got to be intentional. You can't just want to leave a legacy; you've got to do something about it!
Not having kids doesn't mean you're off the hook, either. You don't need offspring to leave a legacy to the next generation. Everyone will be remembered for something.
So what should you do?
Thankfully, the Bible has tons of wisdom to offer in this area. The Legacy Journey unpacks Scripture in a way that's both understandable and actionable. In just seven lessons, Dave, Rachel Cruze and Jon Acuff explore God's Word on the subjects of investing, pursuing a purposeful career, protecting your family legacy, and growing in generosity.
There's even a bonus lesson taught by Chris Hogan on embracing your God-given personality.
Imagine what your legacy can do.
By learning more about who you are and what you're called to do with your time, talents, resources and relationships, you can begin to live your legacy with confidence.
Then one day, when someone of the next generation finally recognizes you in themselves, they'll see more than your freckles or temperament. They'll recognize the financial blessings of your past actions and see, without a doubt, your influence on their character, integrity and contentment. As your generosity becomes their generosity, our world will be blessed for generations to come.
Interested in taking action on the legacy you live and leave? Sign up for a class in your area today!