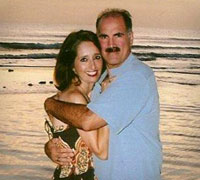 At a church of 15,000, there are quite a few classes available. One of the most impactful to the Haussmans has been Financial Peace University. They were instrumental in bringing FPU to Northland, A Church Distributed in Longwood, Florida.
Rich and Jana took FPU and paid off $65,000 in 23 months, and their enthusiasm for the class skyrocketed. "We recognized the huge impact that working together on our future had on our marriage and family," Rich said. "We knew we had to share this with as many people as possible and could think of no better place than our church."
They reached out to one of their associate pastors and explained what FPU was all about. They soon received the go-ahead. "We were welcomed and encouraged from day one," Rich said.
Things took off from there, and they quickly gathered a team of five couples to lead FPU classes. Northland has even done FPU on a church-wide level through Dave's Momentum program. The passion of one couple can make a powerful difference!
What fuels your passion to share your time and energy as a volunteer FPU coordinator?
We receive amazing blessings from seeing people change their lives. We've seen marriages saved, families get closer then ever before, and people take charge of their financial lives for the first time.
We also love the way leading FPU gives us the opportunity to work with our daughter, Jessica, to help lead young people on this path. Jessica is leading her second class of college students. It's so exciting to see students get a solid financial foundation, knowing that if they apply what they learn in FPU, they will be able to be a blessing to not only their own families but families throughout the community.
We get reenergized every time we lead a new class! It helps us stay focused on our goal of completing Baby Step 6, paying off our home early.
Why would you encourage another church to make stewardship training a priority?
What's a better way to help your congregation—and as a result, the church itself—than to give people the tools and knowledge to get their finances under control? Helping people manage money the way God intended should be a natural extension of any church's leadership and guidance. People can't help others if they don't know how to help themselves.
Another major reason we offer FPU is the outreach to the community that it. On average, about 20–25% of all of the students come from outside of the church, and many have not stepped foot in a house of worship in a very long time. FPU is a wonderful way to reach out to the community and share the word of God with those that you may not have had the opportunity to reach.
You've had great support from church leadership from the start. Why did they get on board?
At first, it was the feedback and victory stories that the church received from people taking the class, but most importantly, we introduced the Momentum program to our leadership, and they bought in 100%.
What is your No. 1 tip for a church that has not offered FPU before?
Our best advice is to just have that first class, even if it is only for 6–10 people. Those 6–10 people will share their experiences with others, and you can't help but have excitement and encouragement grow from there. Since we started leading classes at Northland, we have been able to introduce FPU to two other churches in our area, and they now are seeing the fruits of helping their congregation get financially free.