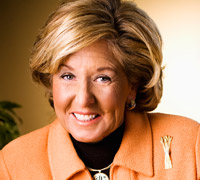 If you are about to throw in the towel or think you'll never be able to obtain your dreams, read on. On our most recent EntreLeadership Podcast, host Chris LoCurto talked to Cordia Harrington, owner of Nashville Bun Company. The baking conglomerate supplies buns and English muffins to clients across the nation, including more than 600 McDonald's restaurants.
Faced with unbelievable odds, Cordia never gave up. She's the classic American success story, and her triumphs will give you hope when times get tough. Here's an excerpt of Chris' conversation with her.
Chris: In the '80s, you decided to go really bold and do something few ladies had done—own a McDonald's. How did you come to that decision?
Cordia: I was fortunate enough, when I had my real estate business, to meet a couple who had purchased a McDonald's in town. Having grown up wearing my cousin's hand-me-downs, I didn't even know you could own a McDonald's. I couldn't believe how awesome they were and what a great opportunity it was. I took the leap and was very fortunate to be selected a registered applicant with McDonald's.
Chris: You picked up a couple more McDonald's, and then you decided to do something even bigger. You picked up a bun company. I believe you were a part of surveying some of the companies that were supplying buns for McDonald's. What was that like?
Cordia: As an owner/operator, I became a part of the "bun committee." The guys thought it was so funny that the only women would be on a bun committee. It was great. I was able to travel to wonderful places and see the supply chain in a global way for McDonald's. I just couldn't believe how exciting it was. There were sesame seeds in Guatemala and flour from Russia. I just had to do it. I wanted to be a bun lady. I wanted to own a bakery.
Chris: When did you first realize you were a leader?
Cordia: I think the first time I ever felt like a leader was when I was a part of volunteer organization called Junior Auxiliary in Russellville, Arkansas. I was elected president, and I was so excited. I thought everybody else in the organization was much better qualified. I had the opportunity to organize activities and fundraisers and motivate 75 other ladies. They were busy volunteers. They were moms. I realized at that point that I really liked motivating people and helping others fulfill their dreams.
Chris: At EntreLeadership Performance Series here in Nashville, we always say organizations are not limited by opportunities but by their leaders. Why do so many leaders fail to recognize this reality?
Cordia: I think that many leaders may not be realistic about where their limitations are. I know for me, I've been president of my company for 15 years. As of January 2, I turned the reins over to somebody I think is much more qualified. He's a gentleman that ran a large group of public bakeries. He has the expertise, training and experience to take our business to the next level.
I think my ego would have to be pretty big to think I still had the skills to run a business the size it is today versus a $4 million business that I was very comfortable doing.
Chris: There are a lot of ladies who listen to this podcast. They would like to know how, as a woman, do you balance life with a huge career? I believe you had three little boys when you started McDonald's.
Cordia: It was tough and something I continue to strive to learn to do. It's definitely a journey. I'm sure when my boys were little, I didn't give them enough one-on-one time. I think we, as moms, always look back and wish we would have done more.
I finally realized at some point, I had to be rested. I had to be calm. In order to be a good leader, I had to set an example. I wouldn't want my employees burning the candle at all ends—trying to come in with just 10% energy. If they take time with their family, they take vacation, and they do the things that give them energy, they are going to be a whole lot better when they are there. So I had to set that example. I probably didn't do it in the early years well enough, but I do it today.
More from the Podcast
Listen to the latest EntreLeadership Podcast for the entire interview with Cordia Harrington, owner of Nashville Bun Company.