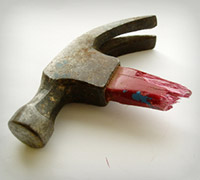 For every successful house flipping deal, there are many more that fail. That doesn't mean house flipping is a bad idea. It just means there is a secret to money-making house flipping that seems to elude most flippers.
You can probably guess the secret, but we'll share it with you, anyway.
The big secret to house flipping success is—pay with cash!
Cash Is Key
It's not hard to see how the lack of money can lead to a house flip failure. Using debt to finance a flip can cause you to act out of desperation. If you can't get the house sold, for example, you're likely to lower your price and cut your profit. Cash-only flippers can wait out a slow market.
Once you've built up enough cash to cover the purchase, repair and remodel of a flip—without dipping into emergency savings or going into debt, you're ready to shop for a house.
How will you know you've saved enough? Educate yourself about your market and about the costs of repairs. Skip this part, and your flip could be a flop.
Study The Market
A lot of house flippers get excited about their next project and can ignore this less glamorous side of the business. Without a good understanding of the market, though, you can't be sure of some key issues:
You don't know if you're actually getting a good deal on the house you're buying. Dave recommends buying investment real estate at 80% of market value, minus the cost of repairs.
You can't accurately identify the home's potential value. Your vision for the home must fit the reality of the neighborhood and the ability of the neighborhood's residents to afford the home you create.
You don't know how to price the house. If you've bought a house in a neighborhood of mostly $130,000–150,000 homes, you'll want to price your flip at the lower end of that range when it's time to sell.
Have A Realistic Budget
Before you make an offer on an investment property, you'll need a budget for repairs and upgrades. That means identifying cosmetic projects as well as any expensive overhauls like plumbing or electrical problems. If you don't have a background in construction, a contractor can tell you what needs fixing and how much it will cost. Surprise repairs can make or break a flip, so be sure to do your homework here.
The Tip
House flipping is a great way to make money in real estate if you do it the right way—buy with cash, know the market, and have a realistic budget.
Dave always recommends working with real estate professionals whether you're buying a home to live in or to flip. An agent who Dave recommends can help you find great real estate deals and understand your local market. Connect with one now!