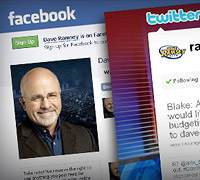 Facebook and Twitter are two of the best places to catch behind-the-scenes glimpses and the most current updates from Dave and his team. Check out some of things you missed in June if you have yet to friend us on Facebook or follow us on Twitter:
Blake: Funniest post of the week - Nick: Dave/Blake HELP - I'm in a online biz class & one of the other students is spouting Dave Ramsey this & Dave Ramsey that. I'm not sure if I'm mad because she's taking all the attention away from my Dave Ramsey spouting or if I'm in love w/ her, because she said she's single & has... no credit cards. Help!
Blake: The AmEx "Black Card" has a $5,000 membership fee, a $3,000 annual fee, & a $250,000 annual spending minimum (or $21,000 per month). "American Excess...membership has it's non-privileges."
Steve: Meet Dave's social media team, The Socialites: (L to R) Katie, Steve, Blake & Lara. http://tweetphoto.com/28920140
If you are married and purchase an iPhone or iPad before you purchase term life insurance, you should have your butt kicked up around your neck and wear it like a collar! - Dave Ramsey
Blake: Check out Martha's (Director of Guest Relations) Mile-High Ice Cream Pie recipe for your July 4th holiday (SO GOOD!) At least click and look at a picture of it! WOW!!
"My goal is for you to learn from my past stupidity not your future stupidity!" - DR
There is only one thing worse than being young & deeply in debt: being old & deeply in debt. Generation Y - Start a plan today!
Dave's Team: Getting a lot of good feedback on this new article, Fun Summer Activities for Kids. Check it out at daveramsey.com!
Blake: You know you are focused on getting out of debt when you fill your gas tank & it doubles the car's value! (via #tdrs emailer)
Blake: If you only make the minimum payment, a $6,000 credit card bill can end up costing you over $30,000 (w/ the average interest rate).
We love connecting with our fans on Facebook and Twitter! Don't miss out on anything in July!