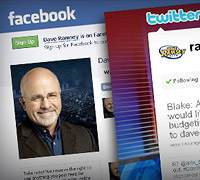 July has been a fun month on Dave's social sites! Dave even gave fans a glimpse of one of his favorite summertime activities: skiing on the lake! Check out the highlights of posts you may have missed, and be sure to follow us on Twitter and Facebook if you aren't already.
Blake (Producer): How would you like to purchase something at a garage sale for $45 and then find out it's worth $200 million?! So you probably haven't had this happen to this degree, but do you have any good posts about finding some good bargains at a garage sale?
Dave: I am so proud of my wife Sharon. In such great shape and still learning at 50.
Blake (Producer): Just had a family destroy their credit cards LIVE on air using a hatchet, then a chainsaw, followed by a gun as the grand finale! Now that's a fun Friday family activity.
Katie: In honor of our 50,000 Twitter fans, we have a GREAT pic of Dave & a very special guest!
Blake (Producer): If you're in debt, stop going out to eat! You shouldn't see the inside of a restaurant unless you're working there! - Dave Ramsey
Blake (Producer): Put a guitar, flip-cam, and creative folks together in Dave's office and anything can happen! Enjoy the "Summer Debt Song" created by designer Luke.
Blake (Producer): Blake: Check out this video of the new "Ask Dave" iPhone/iPad app!
Blake (Producer): 61% of those between the age of 44–75 said running out of money is their biggest fear in life compared to 39% who said death was scarier. (Allianz Survey) What do you fear more?
Steve: Dave's new iPhone app hits the #1 spot in iTunes' Finance category!
Blake: 77-year-old caller just found wife's $250k credit card debt. All from gambling. "We had fun doing it for awhile, then we both got addicted."
Don't miss out on next month's fun and helpful news! Follow Dave and the team on Twitter and Facebook today.