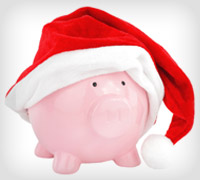 Have you started Christmas planning yet?
Wait a minute … the Christmas season just ended, right? Why in the world should you be worried about budgeting for Christmas already?
Good question. Let's dig in a little deeper.
We all know that Christmas comes on the same day every year. That shouldn't be much of a surprise if you've been living for more than three or four years.
But, somehow, when it comes to our money, we act like they've moved Christmas on us. Every year, as soon as we eat that last little bit of turkey at Thanksgiving, the realization sets in: "Oh no! Christmas is just a month away! Money is so tight! What are we going to do?"
The best Christmas spending plan is one that takes into account the entire year. Take a look at this past Christmas.
Did you spend too much money? Were you rushed to buy stuff in time and just paid for whatever you could get your hands on? Did your money plan consist of throwing it all on a credit card and watching the bills roll in during January?
You probably already know this, but that's an awful plan.
What if you started planning your budget for Christmas 2012 right now? Set aside a little bit of money every month and look for deals throughout the year, not just in December. When you actually have time to make a solid plan, you can make better decisions with your hard-earned money.
Also, think about who you want to buy gifts for this year. Maybe you can cut out a few people, or plan some type of drawing where you only give to one or two other people.
Some of that planning can come later, but the main thing is that you need to make sure you have the cash to cover Christmas. You do that by saving—it's not rocket science! But thousands and thousands of people allow December 25 to sneak up on them, and they end up overspending.
You have 10 months until the start of the Christmas season. What can you do now to make this Christmas less of a burden on your bank account? Share your tips and see what others have to say by leaving a comment below.
Get on a budget and make a plan with Financial Peace University—Dave Ramsey's 13-week class that will help you make the most of your income all year long. Hundreds of classes are going on around the country, so find one in your town now.