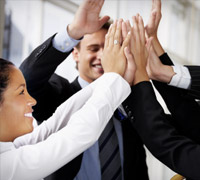 As a small-business owner, there's a good chance you feel like you're the only one who's doing the heavy lifting in your company. Your business is your baby so you come in early, work late, and do whatever it takes to win. You may even find yourself asking the question, "Am I the only one around here who knows how to actually work?"
The answer is probably not. However, you may be the only one who has an invested incentive to work harder.
Think about it. What do you pay your employees to do? If their only incentive is an hourly wage, then there's a good chance they're looking at their watches a lot more than they look at your bottom line. Why should they care if expenses are up and revenue is down if it doesn't reflect in their pay check?
Incorporate Incentives
Here's what works for Dave and his team: incentives! Find a way to incorporate incentives that give everyone a taste of what it's like to have ownership in the business.
Consider building in a monthly bonus that's based off of actual profit and take the time to explain to your team how profit is created. They may actually start caring about things like turning the lights off when they leave and ordering office supplies that get the job done instead of just looking cute in their cubicle. How great would it be if your receptionist really cared whether or not the sales guy lands his next deal when she's taking a call from his prospect? Reward your team when their hard work translates into a greater bottom line. You may be surprised at who has a little work ethic after all.
Learn more about how to incentivize your team at Dave business conference, EntreLeadership.