Everyone wants a piece of the American Dream—whether it's an industrial loft in the city center or a white picket fence in the suburbs. But lately, the dream of home ownership has been eluding many young Americans.
According to the National Association of Realtors (NAR), 35% of recent sales could be attributed to first-time buyers. For a population that typically makes up 40% of the market, that's making a full recovery hard to come by.
So what's holding them back? No single factor is to blame, but two factors are creating major bumps in the road to home ownership.
Student Loans Put the American Dream on Hold
Seven in 10 college seniors graduate with student loan debt, owing an average of over $30,000, according to the Institute for College Access and Success (TICAS). This financial burden is keeping many young Americans out of the housing market. In fact, buyers lucky enough to make the leap to home ownership listed student debt as the number one hurdle to saving up a down payment in a NAR survey.
Student debt not only makes it hard to save a down payment but also affects buyers' ability to obtain a mortgage because it can throw their debt-to-income ratio out of balance. Lenders tightened their credit requirements in the wake of the recession, squeezing many would-be homeowners out of the running. Though lenders have loosened the purse strings a bit now, it's still tough for borrowers with big piles of debt to qualify for a mortgage.
Many Affordable Homes Are Still Underwater
As the economy pushes toward a full recovery, underwater mortgages—mortgages that are more than the homes are worth—are fewer and farther between. According to Zillow, negative equity rates hit a new low at the end of 2016, falling to just 10.5% after peaking at 31% in early 2012. That's great news!
The problem is that the market's most affordable homes are predominately the ones that are underwater. In fact, 16.9% of homes priced in the bottom third were underwater, Zillow data reported, compared to 6.8% in the top third.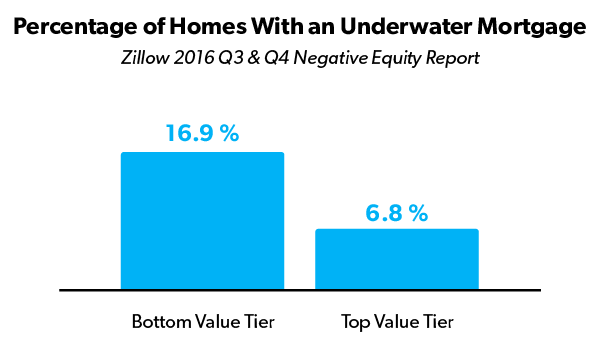 Homeowners who owe more than their home is worth usually aren't busting down the doors to plant a For Sale sign in their yard. And that means limited choices and steeper competition for first-time home buyers.
Push Through the Roadblocks
If you still rent and you're wondering if you'll ever be able to purchase your first home, don't lose hope. You'll get there! It just takes a little patience in the process. Make sure your first home is a blessing and not a curse by laying the proper financial foundation first.
Kick Sallie Mae—and any other debt—to the curb.
Stockpile three to six months of expenses in your emergency fund.
Save up enough cash to put at least 10–20% down on your home.
Then—and only then—will you be ready to buy your first home. You want to be sure your bank account can handle it if the roof springs a leak the same week your hot water heater goes out!
Once you start shopping, don't be tempted to stretch your dollars to the next level if you can't find a home you like in your price range. Keep your monthly payment to 25% or less of your take-home pay on a 15-year, fixed-rate conventional mortgage. No home is worth sacrificing your retirement or your kid's college fund.
Success Doesn't Happen Alone
There's a lot to learn in your first home-buying experience. Partner with a real estate pro who has the heart of a teacher and takes time to listen to your needs and answer your questions. A good agent puts customers before commission and won't push you into a purchase just to boost their bottom line.
Look for an agent who brings at least four years of experience to the table. That kind of expert knows the market well enough to find a great deal on the home that's right for you.
If you're looking for an agent to guide you to a smart first home purchase, we can help! Our Endorsed Local Providers (ELPs) are real estate experts with top-notch customer service. They can help you find a home you love in your budget!
Find an ELP in your local market today!