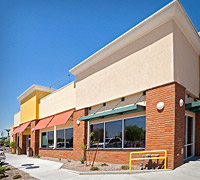 When you purchase a franchised business, you're paying for two things.
First, you're paying for a proven system. You're stepping into a business plan and a company that likely has been around awhile. The second thing a franchise offers is a national brand. McDonald's, Subway, Burger King—these are instantly recognizable national brands.
Of course, those are expensive franchises. Franchise fees can get into the six figures. Plus, depending on your business, you may have equipment to purchase or lease and renovations to make. But you get the picture: the more you pay, the more brand recognition you will get.
Dave recently received a call on his radio show from a man who was interested in opening a dry cleaning business, and he wanted to know whether or not it was worth it to purchase a franchise. Since franchised dry cleaners aren't any more noticeable than independent dry cleaners, Dave didn't think franchising was the right move in this situation.
The key, whether you choose to franchise or not, is to start a business you are passionate about. Even if one type of business is considered more low risk, remember that businesses close every day. Restaurants, dry cleaners, car washes—you name it. You're going to put a lot of time and money into this endeavor, so you need to make sure it's something that you care about.
Look for an opportunity you will enjoy, not just something that offers lower risk or more money. For instance, if you're starting a dry cleaning business, ask these types of questions: Do I like dealing with people? Do I care about helping them with their dry cleaning, or am I more motivated by the potential money?
Remember several other key points: Don't go into debt to purchase a franchise. Downsize your lifestyle and save up and pay cash. If needed, take an extra job while you are saving. Talk to a bunch of franchisees. Find out why some are struggling and why some are successful. Build a relationship with the franchisor and stay in contact with them.
Business is tough. If you're doing something just for the money, you're never going to enjoy it. You will be the hardest boss you've ever had. Find something you love and pursue it, whether it's an independent operation or a franchise. You'll set yourself up for future small-business success.
Learn more from Dave about growing your business the right way at his business conference, EntreLeadership.