Introducing Dave's Brand-New Class, The Legacy Journey
Life is an amazing thing. We only get one, and we want to make the most of it, but so often we find ourselves wondering how. How can we live a legacy now and leave one behind for our family? There's an answer for that question—and it's found in Dave's brand-new, seven-week class, The Legacy Journey.
Millions of families have learned how to handle their money through Financial Peace University (FPU). They've changed their family trees forever. They were inspired to build emergency funds, cut up their credit cards, beat debt, and save for the future.
The Legacy Journey is the next step.
This exciting new class will help you develop a biblical view on money and wealth. In The Legacy Journey, Dave teaches how to manage, grow, and share your wealth in a way that benefits families, enriches communities, and honors God. You'll learn practical steps to live your legacy. It's an entertaining way to learn how to make the most of your life.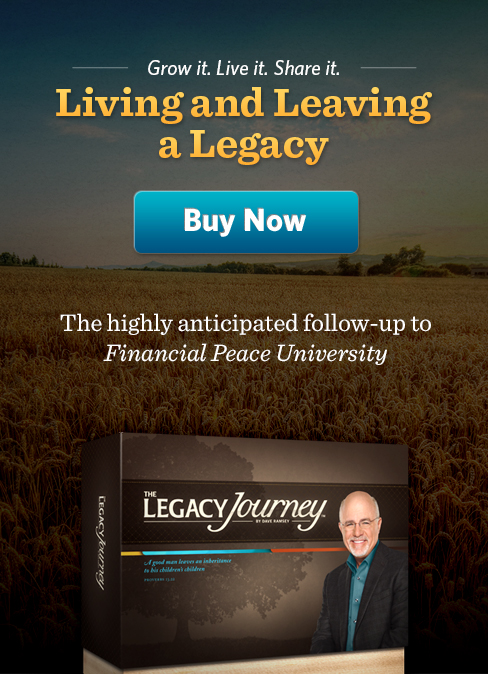 Additionally, you'll learn how to grow your money with wise investing and how to protect it with estate planning. See to it that your family is taken care of, now and later. Learn how to prepare for tomorrow by creating a vision for your future that you can reach. Leave your kids a spiritual and material inheritance. Make sure they have the integrity and knowledge to manage what you leave them wisely. You can do it. The Legacy Journey is how!
Local experts you can trust.
Find an ELP
Jon Acuff and Rachel Cruze will join Dave to share their hearts on the subjects of living with purpose and safeguarding families. In a bonus lesson, money expert Chris Hogan teaches on personality traits.
Build a lasting legacy and ensure your family's security for years to come. Be a blessing to others around town and around the world. The possibilities are endless. You just need to take the first step—a step you can take today.
Classes start soon, and you don't need to be an FPU graduate to register! Dave will officially launch The Legacy Journey on The Dave Ramsey Show on July 16. Don't miss it! For information on hosting a class, visit The Legacy Journey homepage.
Get ready to start living your legacy!