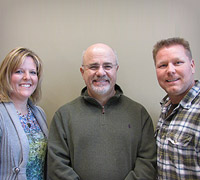 Hey, Dave, We're Debt Freeeee!
Kevin and Dawn visited Financial Peace Plaza for their debt-free radio show call with Dave.
From 794,000 to zero in 10 years.
No, it's not some weird car brake system. It's the story of Kevin and Dawn from Corydon, Indiana. Just over 10 years ago, they were sitting on top of $794,000 in student loans, car loans, land debt and mortgage debt—or you could say, it was sitting on top of them. Now, they are the ones sitting on top … of the world! After seeing Dave at a live event in 2003 and getting gazelle intense, they have paid every red cent off to become debt-free!
"The thing that always goes through my head is when Dave was on stage and had the chains wrapped all around him," said Dawn, 40, of the moment that registered with her the most. "Each time one of the chains fell to the ground, I felt like we could have more freedom."
Weighed Down By Debt
Those chains for Kevin and Dawn started in the mid-1990s. She was in the middle of dental school in Indiana and living off her credit cards. He had heard through the grapevine that his job would soon be cut, so he made the big sacrifice of selling his Camaro, Sea-Doo and 1971 truck to provide the seed money for his construction business, which he started in 1996. They married that same year, and she moved into Kevin's two-bedroom house, which they lived in for a year.
Dawn graduated from dental school in 1997 and "doc-itis" set in. The next home they purchased (their "dream home") was too much for them at the time. As 44-year-old Kevin said, "We just lived normal—making it and spending it." Dawn added, "At that time, we weren't on board with Dave yet."
Kevin ran his construction business from 1996 to 2003 and was hired back at his plant in 1999. He juggled both the factory job and construction through 2003 when his knees finally got the best of him. He then gave up his business and continued working his factory job until the plant closed in 2008 and he lost his job.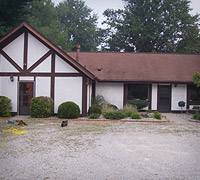 Before the Renovation
This is Dawn's dental practice when they bought it in 2000.
"In 2000, I bought my own dental practice. The building hadn't been touched in 35 years in terms of improvements. I got loans to buy the building and existing equipment and the debts piled up," said Dawn.
The Beginning of the Relief
It was in April 2003 that the two of them headed to see Dave at a live event. Kevin had heard of Dave years before and had listened to him on the radio while he worked, but they weren't gazelle intense yet. It would still be a couple more years before they'd get there.
"In February of 2005, I wrote my debts down," Dawn said. "Every month that I looked at them, I got more focused and more aggressive (about paying them off)." They also noticed that, with $135,000 in student loan debt, the regular payments they were making didn't seem to reduce the balance like they wanted. More was needed. So Dawn and Kevin decided that more would be delivered.
They got gazelle intense and worked their budget. Kevin continued to drive his 1985 Buick Park Avenue. "We had some land on a lake that we needed to sell. That was one of the chains around us. In 2008, we auctioned all the land off in one day," Dawn said.
The debt numbers started going down faster. What do they look like now?
$196,000 in student loan debt (including interest) – PAID
$225,000 house – Sold to become debt-free
$355,000 owed on 75 acres of land – Sold to become debt-free
$18,000 car – Sold to become debt-free
Now on the Other Side
They rented a house for 28 months after selling everything, purchased a paid-for house, and remodeled it with cash. Was it easy? No! Was it worth it? Oh yes!
That's a total of $794,000 in debt, gone! On top of that, Kevin had 13 knee surgeries (that's life happening to them), and they made equipment upgrades to her dental practice during that time (with cash). But it didn't derail them. They have lived like no one else, and now they are going to live like no one else.
The hardest part for each of them was sticking to the budget and resisting the urge to spend. "I knew we could've gone to the car lot and bought a car. When you are cruising down the road in a 1985 Park Avenue, and you pull up at a light next to someone driving a more modern car, it gets tempting," said Kevin. "But we had bigger plans. The big picture was to become debt-free and live in a paid-for house."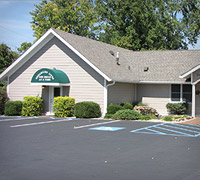 The New Building
They made the renovations to the dental practice over time instead of piling on more debt.
For Dawn, it was tough to not run out and immediately buy every piece of the newest, most cutting-edge equipment for her practice, doing things slowly instead. But they said that going the debt-free route enables her to give better service to her clients. Since she is not in a bunch of debt like some other professionals, she doesn't need to push all sorts of products and services. Instead, she can let her customers choose what is right for them.
Dawn is quick to point out that her profession (and its income) is no gimme for success. "I know lots of dentists who are dead flat busted broke. It's not what you make, it's what you spend."
According to Kevin, being debt free feels "incredible. I'm speechless. I'm shaking." Dawn agrees, adding that "by applying (Dave's) principles, we are on the other side and starting to live like nobody else."
You can turn your financial situation—and life—around just like Kevin and Dawn did! Get started now with Dave's life-changing class, Financial Peace University.