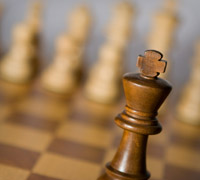 If you are looking for some magical mix of abilities that will instantly turn you into a great leader, stop reading. Why? Because there is never just one blueprint for the job. A leader who can motivate and inspire–one who others will follow—is made up of many talents.
So which character traits are the most important? We asked our EntreLeadership Master Series alumni what qualities they believe make a great leader. Here are some of their top answers:
I think being a visionary is important. You need to think bigger than where you are today and arm yourself for the next step. —Camille Moore, Camille Moore Interiors, Franklin, Tennessee.
To serve and meet the needs of others are the top qualities I think are needed. When you meet the needs of the customers and team members, it just clicks. —Ed Christoffersen, Lunar Mini Golf, Louisburg, Kansas
You need to have an optimistic attitude but always be prepared for the worst case. —Eric Lucy, Platinum Supplemental Insurance, Dubuque, Iowa
The ability to delegate and not micromanage your people is super important. It seems so obvious, but I am always surprised how many small-business owners are control freaks and don't think that anyone can do a job as good as they can. —Jeff Hunter, JH Construction, Beaver Falls, Pennsylvania
Like Dave says, leaders must have an attitude of the tortoise—not the hare. Slow and steady wins the race every time. The business likes you better for it, and the employees (team members) are more relaxed and productive. —John Weathers, Ceil Brite, Townville, South Carolina
Optimism is key. No business operates like a fairy tale. —Laura Pierce, Jus Massage, Fairfax, Virginia
The ability to analyze all of the information before making a decision is super important. —Scott Heron, Creative Tile Distributors, West Columbia, South Carolina
If you know what you will and won't do, morally, you don't have to go back to the drawing board every time an issue comes up. —Amy Dent, Grace Care, St. Leonard, Maryland
Do you have any of these abilities? If not, don't give up. With patience, an open heart and the willingness to learn, they can all be acquired, making you the leader you've always wanted to be.
For more tips on leadership, listen to the latest EntreLeadership Podcast, which features a lesson from Dave and a special interview with Cordia Harrington, owner of Nashville Bun Company, a baking conglomerate that supplies buns and English muffins to more than 600 McDonald's restaurants, plus many other national clients.