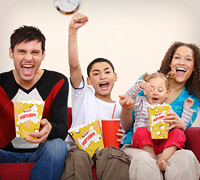 So, what's a vacation all about? Some people might say the beach, others might say not working, still others would opt for the baseball diamond or golf course. But what it's really about is two words … getting away. And that can happen anywhere.
An increasingly popular way to get away from it all is to go nowhere. You stay at home and have boatloads of fun there. It's called a "staycation," where you pack no bags, fight no traffic, and don't have to pay an arm and a leg to fill up the tank. With many people just wanting time with their families, the staycation is a great way to relax and enjoy time with your family without busting your budget.
So how does one orchestrate a staycation? Start by making the decision to have one. When you go on vacation, you don't take work with you, and you relish time with your family. When you take a staycation, don't check in with work or worry about chores. Put yourself in the mindset that there are no worries or work where you are going. You don't need to cut the grass. You don't need to clean the house. It's just you, the sunshine and the spouse and kids.
Be creative (and frugal) in how you have fun. Here are some ways:
Buy some balloons and fill them with water. Spend an afternoon having a water balloon fight. A bunch of laughs, a great time and practically no cost.


Lots of people like to catch a movie one night on a vacation. Rent a movie (or even better, get one free from the library) that the family loves but hasn't seen in a while. Buy some popcorn or chips and have a movie night. Take the phone off the hook, gather everyone around, and enjoy the flick!


Board games are always popular. The best part of game night is that by spending the time together, you'll start talking more with your wife or husband and the kids.


Speaking of games, go to the park and play some sports or take a walk. Throw around a ball or soak up the sights and sounds of nature.
These are just a few tips. Make up your own and really have some fun with this. Have a stress-free, fun-loaded week without spending thousands of dollars to make it happen!