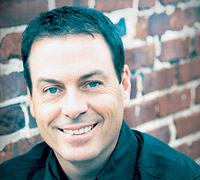 Asking for money changes a relationship, doesn't it? Maybe that's why so many pastors feel uncomfortable asking their congregation to give. This can pose a problem for church plants that are just getting off the ground, because often you need money just to keep the doors open.
Chris Hodges is the pastor of Church of the Highlands in Birmingham. Since the church started in 2001, they have said yes to helping 188 church plants—all this from a church that has never done pulpit appeals or even capital campaigns!
Chris brings some great perspective for church planters and plantees alike:
Don't ask too much
Church of the Highlands was portable for the first six years. When we were at the high school, we never had a single year that we spent more than 40% of the income to run the church. So basically, in six and a half years, we had $16 million in the bank saved. When we did our first building project, we didn't do any fundraising or a big campaign or any pledge cards. You model what you want them to do by running it frugally and giving generously as a church. You don't want to ask too much—especially in the first year. There's not enough trust built with the leadership. You model it first by being generous and frugal in the way you run it. We've never made an appeal in the history of the church.
Putting yourself in a position to help
When I train church planters, I say, "My job is to put our church in the position where God can do things—so when He does something, we are already ready for it." We have seven campuses now, and people think we planned it all, but really they all came to us. We were able to do them because we had the church in the financial position already. When an opportunity comes and we have 40% margin, we can say, "Yeah, let's do it!"
The Association of Related Churches give over $2 million to church planters every year right now. We overfund them in the beginning so they don't have to worry about that. That's basically what our church plant model is: We put so much money into them in the beginning that they're vibrant off the bat.
Teach true stewardship
I have always thought that when we put things in order, there is plenty. So, I've never focused on getting money. We gained respect by running things so efficiently from a business and financial perspective that people put confidence in what we were doing. Now, they give at twice the national average.
I believe that you shouldn't necessarily teach the church stewardship principles to be the beneficiary of it. I always felt like people are generous if they're in love with God. But the truth is, they're not stingy—they're strapped. So you can ask them to give, but they often don't have it to give. The best financial principles are to help them find financial peace—and then they'll give as a natural result.
There are two things you have to be able to do to plant a church. You have to have money in order, and you have to have a leadership team ready to go. We always have more money than we spend and more leaders than we need. That way, when an opportunity comes, we can go do it.
"I think that Lead Without Limits comes back to putting yourself in the position where opportunity will come," he said. "I tell people I'm not a strategist; I'm an opportunist. But you can't take advantage of the opportunities if you haven't prepared."
We want to help you prepare so you can financially take advantage of opportunities. Financial Peace University can help your church live and give like never before!
Read more from Chris! 3 More Principles For Church Planters