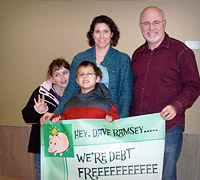 Family Celebrates With Dave
Amy Misencik and her two kids traveled from South Carolina to see Dave at his office in Nashville.
Everyone, at some point in life, will encounter some type of unexpected obstacle—something that comes out of the blue and totally rocks their world to the core. It could be a family tragedy, a divorce, a medical condition—the possibilities are endless.
For Amy Misencik, her life changed drastically when she and her husband divorced after 16 years of marriage. At the time, she was a stay-at-home mother who had always allowed her husband to take care of the bills.
After she received primary custody of their kids, she knew things had to change financially. "I knew I could not just meander through life without a financial plan. So once I got a job, I put Dave's plan into effect for the financial health of me and my two kids," Amy said.
The Big First Step
She started by selling their house. "One thing I realized when we moved was that kids do not need one particular house over another. Once you take the posters off the walls, it's just a building. And once you put your posters up in another place, it becomes your own."
Amy said selling the house wasn't an emotional decision for her: "I knew I couldn't handle living there—the house was much bigger than we needed. I couldn't afford it financially or time-wise. And once I accepted this information, I realized that the sooner I could move, the better." She also said renting a new house gave her a chance to make a fresh start and empowered her to do something on her own.
To adjust to the new experience of being a single mom, Amy said she had to believe in herself. "The hardest part was believing I could get out of debt. One of the problems in my marriage was that I was never trusted with money, so I never learned how to control it," she said.
A Sense of Peace with Money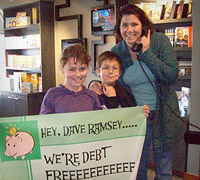 We're Debt Freeeeee!
Amy called into Dave's radio show on a Debt-Free Friday at Financial Peace Plaza in Nashville.
Amy was so excited about becoming debt-free that she drove with her kids from Greenville, South Carolina, to Nashville to make her Debt-Free Friday call in the lobby of Financial Peace Plaza. She says Dave's plan gave her something to rely on while she was still recovering from all the changes in her life. "At the time of my divorce, my brain was mush from all the emotional stuff going on, so the less I had to think, the better. And so I put Dave's plan into effect and pretty much blindly followed it, which was exactly what I needed at the time."
She said that her sense of peace is the biggest difference between her life now and her life before. "Now, I have money to invest in my retirement, which had been neglected during my marriage. And I can invest for my children's college funds. I am now at peace with money instead of dreading it."
From One Single Parent To Another
To other single mothers, Amy says to "trust in yourself and in God." She says, at first, she was overwhelmed by everything she needed to take care of. She didn't believe she could make it by herself. "But then I decided to just get up every day and try to make it through that day. I told myself that God will give me the strength to get done what needed to get done. I couldn't do it all at once, and that was okay. Now it's two years later and as I look back, I cannot believe what I've been through and what I've accomplished," she said.
"If $20 is all you can scrape up to apply to your debt snowball, that's okay," Amy adds. "At least you are not going further into debt and at least you have a plan, which is more than what most people do. It's okay to be the tortoise and take things slow. The tortoise wins the race in end."
As Amy continues to build toward her family's future, her story reminds us that setbacks don't have to knock us down. In fact, setbacks can often readjust our priorities and help us realize what's really important.
In Amy's case, she was forced to take control of her own financial situation. Now she simply wants to make sure she can take care of her family—and others. "I want to be able to retire with dignity. I want to be able to help my children with college. And I want to be able to share the wealth God has given me with others."
She's changing her family tree and making a difference in other people's lives. And, in the end, that's what Financial Peace is all about.
This can be you! Check out Dave's Seven Baby Steps to get started on your journey to freedom now!