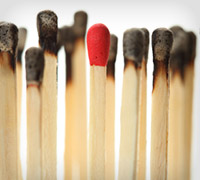 It's tough to be a real estate agent these days. According to figures from the National Association of Realtors, the number of real estate agents has dropped by more than 20% since 2006.
In Grand Rapids, Michigan, the number of agents has fallen by half, according to Zach Wendt, Dave Ramsey's real estate Endorsed Local Provider (ELP) for that area.
"I see the drop in agents as a good thing for anyone looking to buy or sell a home," Wendt said. "Many of the 'weekenders' have dropped out and the caliber of the agents still around is much higher."
Before the housing market slump, many real estate agents were "weekenders," or part-timers looking for some easy extra income.
"The weekend/part-time agent gave a lot of us a bad name," Wendt said. "When an agent has another full-time commitment, they can't put in the time and energy required to get a client their desired result.
"This market has weeded out a lot of the less committed agents," he said.
Customer Service Makes The Difference
The days of easy money in real estate are over—or at least suspended indefinitely. Now more than ever, it's important to work with a real estate agent who's not in the business simply to collect a commission, but one who works hard to meet his clients' needs in the face of a challenging market.
For example, to better meet the needs of his clients, Wendt has become an expert in the short sale and foreclosure markets, helping his clients deal with the anxiety and frustration that comes with these transactions.
"A good agent will take the stress of buying or selling a home off his clients," he said.
"You need to communicate to them in an authentic way that you're the best at what you do, and they can take comfort in knowing that," he added.
Your Home Is Not A Credit Card
Another upside to a down market, Wendt said, is the fact that the drop in home values has taught people not to use their homes like credit cards.
"Because people thought their home values would only go up, they borrowed and borrowed, counting on equity that wasn't there yet," he explained. "Hopefully, this current economic lesson will stick with people."
If you're planning to buy or sell a home, work with an experienced and dedicated real estate agent, like Wendt. Talk with one of Dave Ramsey's real estate ELPs who can advise you on your local market and help you buy or sell your home at the best price.