Swimmer Michael Phelps has it. So does runner Allyson Felix. Lebron James? Oh yeah, it's definitely all over him. And for the other possible future gold medalists who are in London for the next two weeks to compete at the 2012 Olympic Games, it's part of their DNA too. So what exactly is this mysterious thing they all share? It's much more than talent, although that plays a huge role. It's the moment in time when they're experiencing that massive force called momentum. The whole world seems to be smiling down upon them. They're unstoppable.
The awesome part of all this is that momentum isn't just for those who end up on a box of Wheaties. Business owners can have momentum too. And what's even better? As Dave teaches at EntreLeadership Master Series, it can outlast the next headline because pure, sustainable momentum is created.
The Formula
So how do you get that forward motion that can continually win you the gold? Dave believes there are three elements needed to get your business on the road to unbelievable success. And since he has a background in finance, he created a formula to explain it to his team. It's called the Momentum Theorem: Focused Intensity over Time multiplied by God equals Unstoppable Momentum.
Seem a bit complicated? It's not. Here's the breakdown and how it can be applied.
Focus
Becoming a champion takes much more than talent. Being able to concentrate on what you do is just as important. Just ask Phelps' coach Bob Bowman. He said in an interview with USA Today before the 2008 games that the swimmer's single-mindedness and ability to climb out of the pool solely focused on the next race would be the key to Phelps' success. Eight gold medals proved him right.
How to apply it: Keep your eye on the prize, finish line or whatever metaphor you choose. Don't jump from product to product or idea to idea. In today's hyper-fast, A.D.D. world, those who focus stand out from the crowd.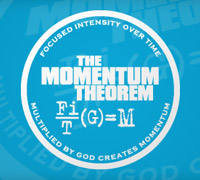 Intensity
Ask any great athlete about their sport, and their face will light up. They are passionate about what they do. And you can see it in their performances. Moderate about their games, they're not.
How to apply it: Put as much intensity into your company as you do your favorite hobby or sports team, and watch your business grow. Combine it with focus, and it will explode!
Time
Out of all the elements of the Momentum formula, time may be the hardest one to achieve. The longer you stay focused with intensity, the more you'll succeed. Like every gold medalist knows, practice makes perfect.
How to apply it: Remember, you're not in a sprint, you're in a marathon. The longer you can concentrate, the more successful you'll be. "People who can stay focused for a year can completely change their lives," Dave says. "People who can stay focused for five years can change an entire region. People who can stay focused for two decades become a national brand."
God
For Allyson Felix, faith is the reason she runs. The same holds true for LoLo Jones. And they're not alone. There are a ton of other Olympians competing who know who's in charge and the reason for their success.
How to apply it: Even with focused intensity over time, we are all, including the best athletes in the world, finite. But God is infinite. So multiply it by Him for unstoppable momentum.
Although there is no such thing as a small-business Olympics, you can still be a champion. By staying on track, working with passion for an extended period of time, plus giving it all up to God, you and your company will become winners every time.
To learn more about business, team building and leadership, download our EntreLeadership Podcasts, which include lessons from Dave plus interviews with key business leaders from across the nation.