Home Selling
How to Upsize Your Home in 3 Steps
When Peter and Cheryl bought their cozy, 1,200-square-foot cottage, the snug little house was just the right size for the newlywed couple. But seven years and three kids later, their once-perfect home is bursting at the seams. Their two boys share a bedroom while all five family members jostle for space in the cramped living room and kitchen.
Maybe you can relate to Peter and Cheryl's situation. More than a third of all homebuyers last year were families with kids. And 37% of sellers age 36 and under cited cramped quarters as their reason for moving. Maybe you're approaching retirement and want more room in your house so that all the children and grandchildren can stay at Grandpa and Grandma's.
But there's a lot to consider if you want to upsize the right way. We boiled it all down to three simple steps to help homeowners who want to truly upgrade their home without downgrading their finances.
Step One: How Does Your Current Mortgage Fit?
As with any journey, you need to know where you are now in order to get where you want to go. So Peter and Cheryl start by digging into their current mortgage. They were super-conservative when they bought their home, making a 20% down payment on the $125,000 house. Their payment was less than $800 a month—a stretch at the time.

Find expert agents to help you sell your home.
A couple of years ago, they considered buying a larger home but quickly decided it wasn't the right time. They knew a larger home would mean a bigger mortgage payment, but they were still just managing to make their $800 payment with little left over. They didn't want to sign up for more than they could handle, so they decided to pay down their mortgage and work toward salary increases that would make a larger home more affordable.
A word from those who've been there: As you review your budget, don't forget to bump up the amount you set aside for home maintenance. Estimating maintenance costs at 1–3% of a home's initial value means Peter and Cheryl's original annual maintenance budget would jump from as little as $1,250 to as much as $7,800 for a $260,000 home.
Step Two: What's Your Potential Profit?
The best news for Peter and Cheryl is the equity they've built up in their tiny home. They have just $62,000 left on their mortgage, plus the original value of their home has increased by about $15,000. That potentially gives them $78,000 in equity!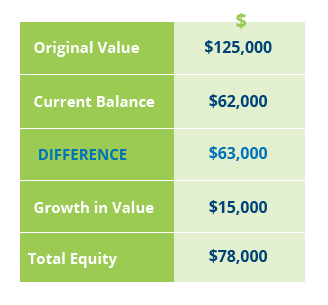 After setting aside a portion of that to pay their real estate agent's commission and cover the costs to move, Peter and Cheryl are looking at a potential profit of around $65,000 they can use to pay on their next home!
Can you expect the same? While overall home values have risen rapidly nationwide, how much they've risen varies from state to state, city to city, and even neighborhood to neighborhood. According to CoreLogic's quarterly equity report, nearly 15% of homes with a mortgage remain under-equitied, meaning the homeowners have less than 20% equity in their properties. Another 8% have negative equity, which means the homeowner owes more than the home is worth.(1)
Make sure you're not in that boat by consulting an experienced real estate agent who specializes in your local housing market. Your agent can tell you how much buyers will be willing to pay for your home so you can decide whether you've built up enough equity to sell now or you need to wait a little longer.
Step Three: Set Your Budget and Look for a Good Deal
Peter and Cheryl crunched the numbers and estimated they could afford to purchase a $265,000 home. But conservative home-buying paid off for them in the past, so they plan to aim smaller, keeping their monthly payment to $1,200 on a 15-year mortgage.
They set their home-buying budget to $215,000–235,000 and asked their real estate agent to keep an eye out for homes that other buyers may have overlooked, reducing competition and hopefully getting them more home for less money.
Keeping it real. Dave's rule of thumb for mortgages is to keep the payment to no more than 25% of your take-home pay on a 15-year mortgage. But you may not have to max out your budget to find the kind of home you want, especially if you're a repeat buyer with a large down payment like Peter and Cheryl.
Keep in mind that buyers often compete for move-in ready houses, driving up their prices. Look around at the neighborhoods you like and target below-budget houses that need a few simple upgrades.
Moved Up and Moved In
Since starter homes like Peter and Cheryl's are in demand, their home sold quickly for asking price, plus they had extra time to choose their new home before moving out.
They found their new home in a settled neighborhood in a great school district. They put $45,000 down on the $225,000 four-bedroom home—a great deal even after paying cash for a few well-chosen upgrades.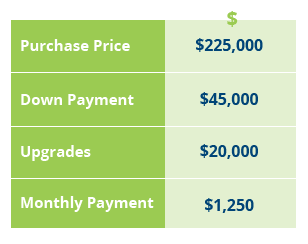 Are You Ready to Move Up?
Moving up to a larger home is an important step not just for your family but also for your finances. Make sure you're ready to take on that challenge by working with an experienced real estate agent who can help you price and sell your current home while assisting you in your search for your next home.
Having the heart of a teacher on your side will also ease a lot of the stress involved in such a significant transition. We can help you find a real estate pro in your area who can help you get started today!