Paying off debt can often feel like climbing a mountain . . . in 100-degree heat . . . with a backpack full of bowling balls. Anyone who has been on Baby Step 2, aka list all debts smallest to largest (except the house) and pay them off using the debt snowball, knows that the struggle is real.
When you total up your student loans, car loans and credit card bills, you might feel like you're staring at a mountain of debt. We understand that it can be overwhelming and scary, but we also believe you can ditch debt for good!
Whether you're just starting Baby Step 2 or you've been trying to get through it for a while, a little dose of motivation can make all the difference. Here are some tips to get you fired up and turn that snowball into a debt-demolishing snowplow!
Get Mad at Debt
Are you sick and tired of being sick and tired?
Sometimes we get so used to debt that we forget how much it is weighing us down. Only when we stop and realize just how harmful debt is can we start to take action. You wouldn't let someone who is actively stealing from you live in your basement for free, right? It's time to send debt packing!

Get out of debt faster by refinancing your student loans with a company we trust.
You need an "I've had it" moment!
Does debt make you mad? It should! Think about what debt is keeping you from doing and how those monthly payments make you feel. If you're going to commit to the fight that is Baby Step 2, you've got to see debt for what it is—the enemy.
Time to Get Gazelle Intense
Once you realize just how dangerous debt is, paying it off becomes a lot more urgent. You make a budget. You cut the subscriptions. You even sell the car. You are making the sacrifices and watching that debt snowball roll. You are on fire!
But what happens when the snowball starts to slow and your motivation begins to melt?
Maybe you're down to your last few debts, the big whoppers—or even the final one—and you're frustrated. Maybe you aren't seeing those small wins anymore and you feel like you're running on fumes and getting no traction.
The choice to dig your heels in and not give up—that's your defining moment. Quitting is normal, and so is debt, but if you're following Dave Ramsey's Baby Steps, you're done with normal. How badly do you want to be debt-free? You get to decide if the cycle of giving up ends here.
Dave says to run from debt like your life depends on it!
You've come this far and you're not going back. So run, Forrest, run!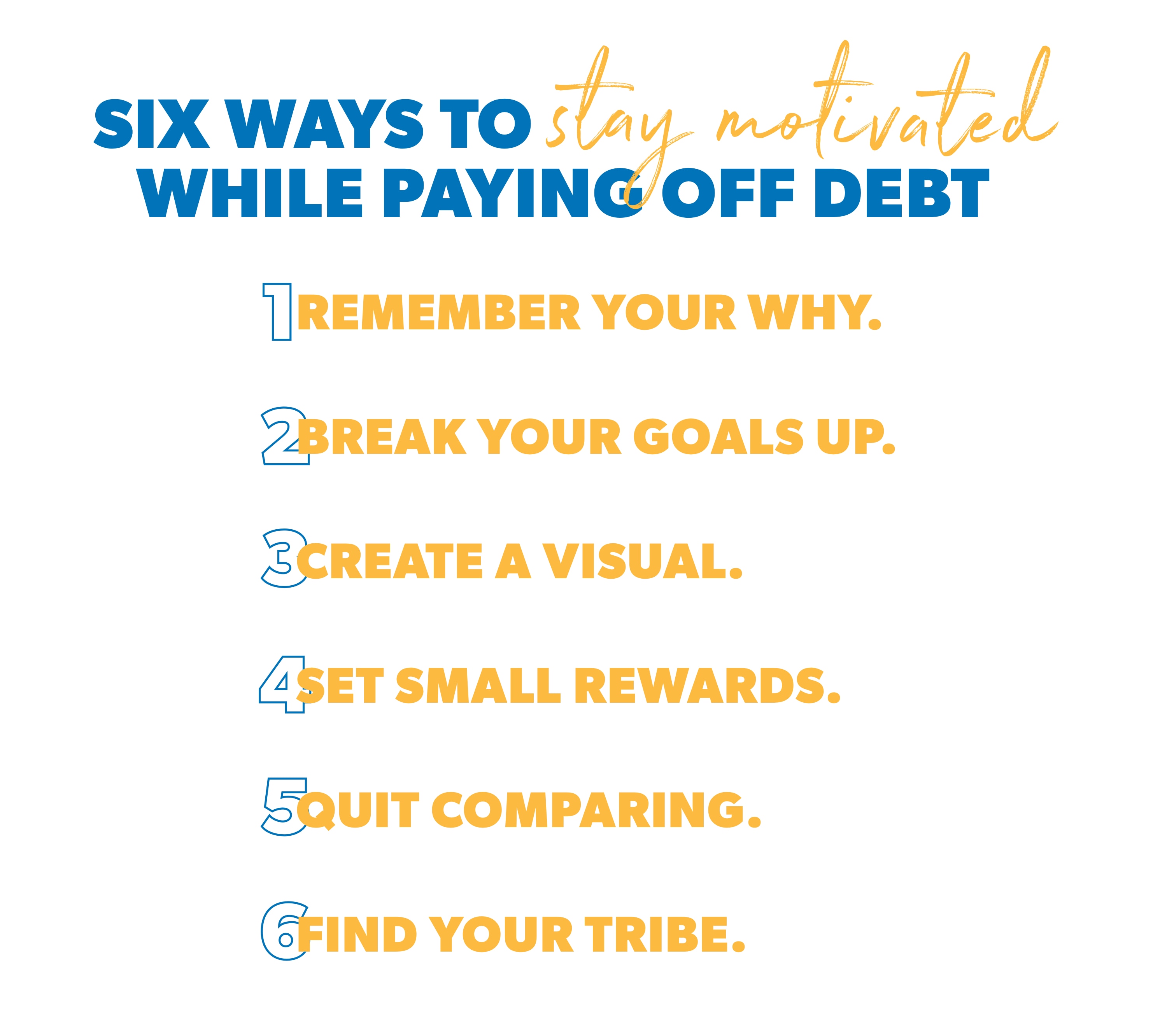 6 Ways to Stay Motivated Through Baby Step 2
1. Remember your why.
Before you start the Baby Step 2 trek, you need to ask yourself why the heck you're on this journey in the first place.
What's your why? What are the reasons you want to kick debt's butt for good?
Maybe it's to build a legacy—to create a home where your children will never watch their parents struggle to buy groceries or pay the minimum payment on their credit card bill. Maybe you want to pursue a passion or start a business. Or maybe you have your sights set on becoming an everyday millionaire. You want to build wealth, live and give like no one else . . . but you have to get out of debt first.
Get specific with whatever your why is and keep it at the forefront of your mind by creating a vision board on paper or on Pinterest. When you're feeling discouraged, those images will remind you of how you're going to feel once you're debt-free. Every sacrifice you make today gets you closer to the kind of future you want to live.
2. Break your goals up into smaller ones.
Instead of looking at $50,000 of debt and screaming like Kevin McCallister in Home Alone (you know the face), break that amount up into smaller chunks. Whether it's increments of $5,000 or $500, set little goals that feel easier to knock out.
The momentum created by achieving small goals is the reason the debt snowball works so well. Scratching another credit card off the list or kicking a car loan to the curb is a lot like tossing bowling balls out of that backpack—you suddenly feel a lot lighter, and the climb doesn't seem as impossible as it did before. We need those small wins to energize us and remind us that our goals are totally doable.
3. Create a visual to track your progress.
Because so many of us are visual learners, it can help to actually see your progress toward your money goals. You can use this Debt Snowball Tracker or place a sticky note on your bathroom mirror to remind yourself how much debt you have left. Maybe you want to draw a piggy bank or your spirit animal on poster board and color it in as you pay off your debts.
Rachael M. got really creative. "I made a giant paper chain with our final debt (our mortgage) on it, each link representing $500," she said. "Every month we got to remove a link and see it shrink!" Having visual reminders will keep your goal on your mind and help you reach it faster.
4. Set small rewards along the way.
We know you love rice and beans seven days a week, but it's okay to give yourself small rewards to stay motivated until the last debt is paid in full. You could treat yourself to something as small as a latte from your favorite coffee shop. Or maybe you snag some shoes that are on sale.
Better yet, add those rewards to your visual tracker to have something to look forward to when you reach a goal. You choose your rewards—just make sure they aren't so extravagant that they slow down your progress.
Ron B. has a great system in place to reward himself with little treats any time he hits a milestone: "Pay off a tire account? Budget a dinner out next month. Pay off a credit card? Budget a day out of the house and have some fun, or add $25 to each other's pocket money for the month. You've gotta have things like that or you'll resent the journey."
5. Quit the comparisons.
Yeah, we're about to go all Rachel Cruze for a second. Comparison is the thief of joy, so don't even bother wasting your time (or energy!) on it. It's great to get inspired by other people's stories, but don't compare your story to theirs. Everyone is on a different journey, and everyone has different tools in their back pocket.
If you're a one-income family of four making $45,000 a year, your progress is probably going to look a little different than a DINK (dual income, no kids) couple pulling in $120,000 a year. Or let's say you have $3,000 in credit card debt and that's it. You're going to plow through your debt snowball pretty fast compared to someone who's working to pay off $90,000 of debt. And that's all okay!
Bottom line? Don't compare your situation to other people's. We are all climbing that mountain, but it's definitely not a race. It's like Rachel says, "When we start comparing ourselves to other people, we are playing a game we'll never win."


6. Find your tribe.
If you're on Baby Step 2, you're not alone. Reaching your goals is much easier when you have people walking alongside you. Everyone needs a cheerleader!
In fact, that's one of the reasons why The Dave Ramsey Show has over 15 million listeners. Dave knows that people need guidance and encouragement. Getting an answer to a question or hearing someone else's success inspires us to keep going. Listen to the podcast and get your daily pep talk while doing the dishes or driving to work.
Be sure to also check out The Ramsey Baby Steps Community on Facebook for accountability and support from others who are in the same boat as you.
And there's nothing like a Debt-Free Scream playlist to get you pumped to tackle your debt. Seeing real people change their lives for good gives you hope for your own situation. (Just don't be surprised if you're crying happy tears after the first few minutes.)
Of course, one of the best ways to stay motivated and keep your gazelle intensity is to jump into Financial Peace University (FPU). With your online membership, you get 24/7 access to Dave's number one proven plan and tools to help you tackle the Baby Steps and create your best future! You can also connect with other FPU members online to share advice and celebrate each other's wins.
Already taken FPU? Being a coordinator is a great way to stay motivated while also encouraging others.
Your Sacrifices Matter
When you feel like you've done all you can do but there's still a long way to go on your debt-free journey, remember this: What you're doing in Baby Step 2 matters. The decisions you're making today are changing the landscape of your future. You're rewriting your story. You're transforming your family tree. You're paving the way to leave a legacy.
Yes, it's the hardest part, but imagine what it will be like to be debt-free. No really, imagine it. Picture yourself finishing Baby Step 2. What will that mean for you? How will you feel?
The journey is worth it! You can do this! You are doing this!