Investing & Retirement
How to Start a Roth IRA
One of the most basic hurdles to saving for retirement is the simple act of opening an investing account, like my favorite option, a Roth IRA. It can feel like uncharted territory with all the paperwork and unfamiliar financial terms.
Don't let fear of the unknown keep you from your retirement dream. Starting a Roth IRA is as easy as opening a checking account, people! And it's an ideal way to save your money for retirement.
We'll show you how to start a Roth IRA in a minute, but first, let me tell you why it's my favorite tool for retirement savings.
Why Open a Roth IRA?
Back in the day, private companies set money aside for their employees to live on in retirement. These accounts were called pensions. For lots of reasons, including the changing economy, most companies have replaced pension plans with 401(k), 403(b), or 457 plans. They're named after sections of the tax code that authorized the plans, and you can only contribute money to one of these accounts through your workplace.
A Roth IRA is a great way to supplement your workplace retirement plan, but if you don't have a retirement plan at work—and lots of people don't—a Roth IRA is essential. Bottom line: If you qualify for a Roth IRA, you need one!

You've got options with investing. Learn which is right for you.
IRA stands for "individual retirement agreement." Traditional IRAs were first made available in 1974 when pensions began to decline and people demanded another tax-advantaged option for their retirement savings. Then, in 1997, the Roth IRA with different tax benefits was born. The major difference between a traditional IRA and a Roth IRA is that you are taxed on withdrawals in retirement in a traditional IRA, while Roth IRA withdrawals in retirement are generally tax-free. That's why I prefer the Roth IRA over the Traditional IRA for those who qualify.
There are limits to how much money you can put into IRAs. For 2018, you can invest $5,500 in either a traditional IRA or a Roth IRA. If you're 50 or older, you can add an extra $1,000, for a total of $6,500.
How to Start a Roth IRA
Opening a Roth IRA can be as simple as visiting your bank's website and filling out an online application. If your bank doesn't offer Roth IRA accounts, you can open one with a brokerage firm. Most large firms also offer online access to start the account application.
But you don't have to handle the process on your own. In fact, the best way to start a Roth IRA is to talk with your financial advisor. If you don't have one, reach out to a SmartVestor Pro in your area who is committed to educating and empowering you to make the best decisions as you plan for your retirement future.
You can also ask your HR department at work if your company offers financial advising services for their employees.
Whether you work with a pro or sign up on your own, you'll have some paperwork (or online forms) to fill out to open your account. You'll need the following information to complete the process:
Your driver's license or other government form of photo identification
Your Social Security number
Your bank's routing number and your checking or savings account number
Your employer's name and address (optional)
You'll also choose a beneficiary (or beneficiaries) who will inherit your Roth IRA. You'll need their name, Social Security number and date of birth.
Roth IRA Investments
Once you've opened your account, the next step is to choose what to invest in. This is by far the most difficult step in starting a Roth IRA, especially if you're unfamiliar with investing terms.
We recommend a mix of mutual funds for your Roth IRA for several reasons:
Many mutual fund companies will allow you to start investing through your Roth IRA with as little as $50 per month, so there's no need to put off opening your account until you have "enough money" to start investing.


Mutual funds allow you to use the power of the stock market's long history of growth without taking on the risk of single stock investing.


Mutual funds are managed by teams of investing professionals whose job is to make sure the mutual fund performs at the highest level possible.


If you decide to work with an investing professional to open your Roth IRA and choose your mutual funds, the upfront commissions pay for your pro's time and expert advice not just at the time you open your account, but for as long as you invest in your Roth IRA.
When you're choosing your mutual funds, we recommend you invest in funds with a long history—10 years or more--of strong returns. Spread your investments across these four types of funds, with 25% in each type.
Growth and Income: These funds have a history of stable growth that also pay dividends. You might find these listed under the large-cap or large value fund categories. They can also called blue chip, dividend income or equity income funds.


Growth: These funds are made up of medium or large US companies that are still experiencing growth. These are more likely to ebb and flow with the economy. They can also be called mid-cap, large-cap, equity or growth funds.


Aggressive Growth: These funds are the wild child of your portfolio. When these funds are up, they're up and when they're down, they're down.


International: These funds give you a chance to invest in big non-U.S. companies you already know and love. These are great because they spread your risk beyond U.S. soil. That way your retirement fund doesn't totally tank if America goes through an unexpected downturn. They are also called foreign or overseas funds.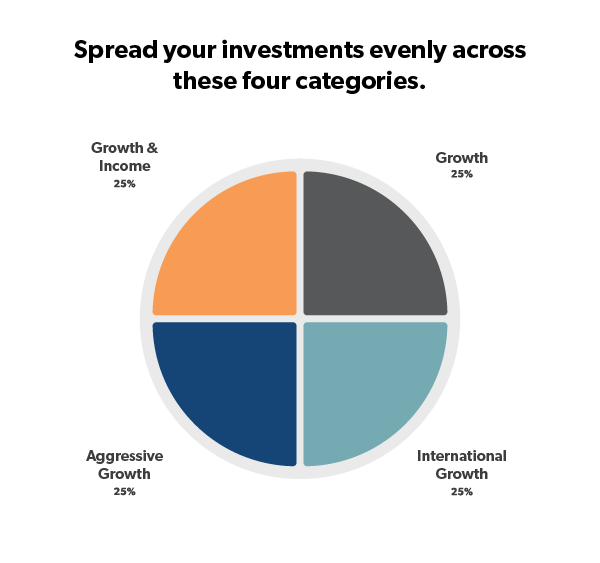 Also keep in mind:
Never invest in anything you don't understand, including how much you're paying and why. No one cares about your future as much as you do, so take charge of your mutual fund education. Understand how they work, how much they cost and how the cost will affect your savings long-term.


Don't chase returns. Before you commit to a fund, take a step back and consider the big picture. How has it performed over the past five years? What about the past 10 or 20 years? Look for mutual funds that stand the test of time and continue to deliver strong long-haul returns.
To learn more about using mutual funds to build wealth, check out my new book, Everyday Millionaires.
The Contributions
Ever heard the phrase, "out of sight, out of mind?" I'm guilty of forgetting an appointment because it wasn't on my schedule. You can actually use this principle in your favor! How? By automating your investing.
When you set up your Roth IRA, you can arrange to have the money you invest in your Roth IRA taken directly out of your checking account. It will require an extra step in paperwork, but it's worth the time to ensure that you're putting away money for retirement consistently. And because you never see that money, you won't even miss it! Plus, you won't be tempted to use it to pay for new tires or a new pair of jeans.
Leave It Alone!
Now, I have one more important piece of advice: Leave your investment alone, especially when the market slumps. Don't panic!
Historically in the investing world, what goes down eventually comes back up. For example, during the financial crisis of 2007–2009, the S&P 500 Index (which tracks the performance of the top 500 companies in the U.S.) dropped 57% between October 2007 and March 2009.(1) However, the S&P bounced back—and by 2013, stock prices had recovered their losses and have been steadily improving since.(2)
When you invest, you have to think long-term and wait patiently for your nest egg to grow. A good investing professional can help you through those roller coaster seasons so you don't make a dumb decision out of fear.
Start Investing Today!
Starting a Roth IRA is easier than you thought, right? Now, go get that paperwork and get started!
Want to partner with a pro but don't know where to start? Try SmartVestor! It's an easy and free way to find investing help near you.
About Chris Hogan
Chris Hogan is a #1 national best-selling author, dynamic speaker and financial expert. For more than a decade, Hogan has served at Ramsey Solutions, spreading a message of hope to audiences across the country as a financial coach and Ramsey Personality. Hogan challenges and equips people to take control of their money and reach their financial goals, using The Chris Hogan Show, his national TV appearances, and live events across the nation. His second book, Everyday Millionaires: How Ordinary People Built Extraordinary Wealth—And How You Can Too is based on the largest study of net-worth millionaires ever conducted. You can follow Hogan on Twitter and Instagram at @ChrisHogan360 and online at chrishogan360.com or facebook.com/chrishogan360.