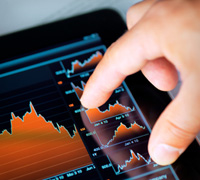 How important is your input when it comes to investing? Studies of successful investors show they get personally involved in the decisions that affect their investments by conducting their own research.
For example, 64% of ultra-wealthy investors (those with $25 million or more in assets) rely equally on information from their financial advisors and daily financial publications as part of their research. More than half of them also go online to check out financial services companies and research investments every week.
Researching Mutual Funds
While you may not have $25 million to invest (yet!), you can do what rich people do and research your investments as well. For mutual fund investing like Dave recommends, online mutual fund screeners are a good option to help you find and choose good funds.
These screeners are simply databases of information about individual mutual funds. Yahoo! finance has a good screener you can check out for free. With some digging, you can answer the three most important questions about a mutual fund: What's the long-term track record? What is the fund's rank within its category? What are the fund's expenses?

Be confident about your retirement. Find an investing pro in your area today.
Most screeners work the same way and allow you to organize the information to suit you. Screeners allow you to:
Create lists of mutual funds based on returns.
Compare specific funds.
Review pages of graphs and stats for each fund.
Set up your own portfolio page.
But gathering more in-depth information will be a challenge, and you can't really do an apples-to-apples comparison of funds with incomplete data. For example, the free screener shows only 1-, 3- and 5-year returns, but you may want to know about a fund's performance over 15 or 20 years. If you're the kind of investor who needs extensive detail on your investments, consider subscribing to a professional-grade mutual fund screening system.
Professional Advice for the Final Decision
No matter how powerful your screening program is, it can't make your investing decisions for you. Those studies of wealthy investors' habits also show that, although 68% said they have the skills and talent to manage their own portfolios, 70% of them trust their financial advisors to help them grow their investments.
That's why Dave recommends you combine your research with the advice of an investing professional. These experts will work with you to make sure your investments are on target to meet your goals—and help you keep them that way. Dave's investing Endorsed Local Providers are pros in your area who will give you the same great investing advice Dave would. Contact your ELP today!