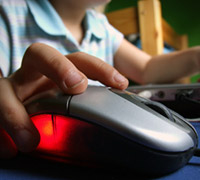 Mommy, something's not right.
When a mom named Anne first heard these words from her daughter, she thought it was no big deal. After all, kids can say the darndest things, and Anne had taught her seven-year-old daughter, Cindy, internet safety.
Little Cindy attempted to log in to webkinz.com, an internet site specifically for children. Again Anne heard the growing concern in her daughters voice that something wasn't right.
I walked in the room to see what Cindy was talking about. She typed in w-e-k-b-i-n-z, accidentally swapping the k and the b, Anne said. Then it hit me. I pushed her to the side so I could see what she saw without her seeing it again. As soon as I hit enter, hardcore pornography popped up on the screen.
Anne got a firsthand lesson in typosquatting—when a marketer buys a domain name that has a slight misspelling of a popular site in order to trick internet users into visiting sites they had no intention of visiting. And unfortunately, many typosquatters are pornographers who specifically target children.
In the blink of an eye, Cindy's innocence was gone.
"It was awful. I was literally, physically ill," said Anne. "A week does not go by that I don't think about it. It haunts me. It was a violation of our privacy and our childs innocence."
Anne now uses InternetSafety.com's award-winning Safe Eyes internet safety software to protect her family. She has practical advice for parents who think they can wait until their children reach a certain age before worrying about what their kids do online.
Its not a choice. It should be an automatic decision. If you have a computer, you need to have Safe Eyes on it. "I figured we would get into that when we had a teenager," said Anne. "I didnt realize that even though my daughter wasnt looking for inappropriate content, it was looking for her. I know now that I have done everything I can to protect her from what comes across the computer."
Anne also realized that just having Safe Eyes on her home computer isnt enough.
It has to be community-wide. It's not enough to protect your own house. It's a great starting point, but when your child goes next door, if they're not protected there, then they're not protected. Period.
Safe Eyes is the top-rated internet safety software, according to the leading independent consumer agency, and it is the only software endorsed and used by Dave Ramsey. It not only blocks sites like the one Cindy saw but also monitors instant messenger chats and selectively blocks YouTube content video by video. Learn more about the many benefits Safe Eyes offers.
At InternetSafety.com, we realize that the internet is an unsupervised playground. There are good areas and bad areas, says Chief Evangelist Joe Stradinger. We want to give families the tools they need to enjoy the good and avoid the bad. We encourage families to develop a game plan for the dangers online, but also to do all they can to protect themselves. That's why we continually strive to make Safe Eyes the best internet safety software available.
About InternetSafety.com
Established in 1999, InternetSafety.com specializes in providing internet safety solutions. Its flagship software, Safe Eyes, is the two-time recipient of the PC Magazine Editors' Choice Award, winner of a separate Editor's Choice Award from LAPTOP Magazine, and is rated the number one parental-control solution by America's leading consumer advocacy publication. The company's Safe Eyes, Safe Eyes Mobile and EtherShield products provide online protection for consumers and businesses in more than 150 countries.