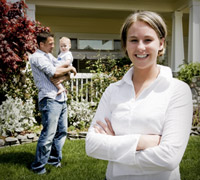 Buying a house can be a gut-wrenching experience. There are a lot of moving parts, and when something goes wrong, it either drags out the process or ruins the deal.
However, if you enter the process with some basic tips, you'll be more likely to make the best buying decisions.
Don't buy what you can't afford.
It's the most basic rule and the most commonly ignored one. In case you haven't noticed, there are a lot of foreclosures happening. The reason why is that people bought more house than they could afford. When you are getting a loan, don't take out a mortgage where the payments are more than a quarter of your take-home pay on a 15-year fixed-rate mortgage. Read more.
Get the right agent.
You want someone who communicates well with you and does what you want. Remember, they are working for you. Get someone who is high octane and high protein, will return your phone calls and give you service. Don't just pick the first agent who walks in the door; interview more than one to get a feel for the person you want. Connect with an agent in your area who Dave recommends!
Know what you want in a house.
This can be a fun thing to do on a weekend. Pick a neighborhood that you would like to live in (and can afford). Drive around it for a while. Check out the houses and get ideas of what you like. Do you want a covered porch? Garage? Big yard? How close do you want to be to your job? Have some fun with this, and you'll gather some answers for when your agent asks you the questions.
Get that deal!
It's a buyer's market, so get as much as you can for as little as you can. Interest rates are very low, so if you are debt-free and have an emergency fund of three to six months of expenses in place, it's an excellent time to buy. Work the numbers to find what you can afford, which will help in negotiating the price.
Get a home inspection done.
Know what you are buying. Make sure anything that is broken or needs repair is fixed before you sign on the dotted line. You don't need to worry about offending anyone by asking for an inspection because you want to know you are buying a quality house.
It's a great time to buy! But do it so that the house is a blessing and not a curse. Remember, there's no reason to go it alone when you're shopping for or selling a home. Dave's real estate Endorsed Local Providers are experts in the market in your area. Get in touch with your real estate ELP today!