There's nothing quite like the sense of security and accomplishment that comes with knowing you're on the path to a comfortable retirement. But, that feeling can quickly dissolve into stress—even guilt—when you discover your parents are lagging far behind you on the path to their own retirement.
"My husband and I are in a good place for retirement," Cerissa H. told us. "Our parents, however, are not, and for different reasons." Cerissa's parents had careers in full-time ministry and never had a large income. Her in-laws are drowning in debt on several rental properties.
"We are concerned about their quality of life, the lack of long-term care insurance for all of them, and the debt," she said. "How do we prepare for a life where we will probably inherit adult dependents and debt? How do we encourage my parents to maintain hope for their financial future? How do we respectfully talk to my in-laws about their debt?"
Related: Wondering if your retirement savings are on track? Get in touch with a SmartVestor Pro today!
A Lot of Us Are Worried About Our Parents' Retirement
It may not be much consolation, but plenty of kids of unprepared retirees are searching for answers to the same questions. The U.S. Government Accountability Office published a report on retirement security, and their research found:
52% of seniors age 55 and older have no retirement savings in an IRA or a workplace retirement plan like a 401(k).
Less than a quarter of seniors in that age group have a pension that will provide some income in retirement.
Nearly 30% have neither retirement savings nor a pension.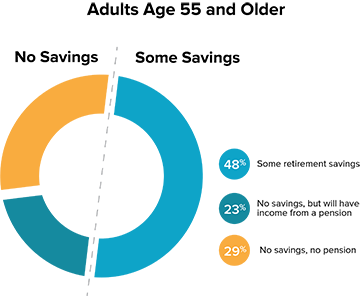 Many people in this category also have limited assets to rely on when they retire. Only 35% own their home outright, and 41% do not own a home at all. For those age 65 and older, Social Security makes up more than half of their household income.
Gary Shaw, an investing professional, said all this adds up to a difficult outlook both for the retirees and their children.
"I think what we've discovered is that parents really didn't plan on not being able to live on Social Security," he said. "They didn't realize their expenses, especially health care, were going to be as high as they are. Or they didn't get their house paid off as soon as they planned, so they still have to make a house payment."
When retirement funds are short or nonexistent, many seniors see no other option but to keep working.
Jessica G.'s mother is almost 60 years old and has little retirement savings. She says she'll keep working part time as long as she can while drawing Social Security to fill in the gaps in her income.
Katy C. says her mother-in-law often jokes that her coworkers will have to "pry her cold, dead hands off her keyboard."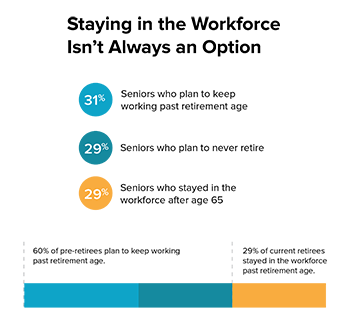 Nearly 60% of pre-retirees plan to keep working past retirement age. That includes 29% who say they will never retire. But among people who are already retired, the reality is only 29% were actually able to remain in the workforce past retirement age.
How to Start the Retirement Conversation With Your Parents
Statistics aside, the future you and your parents are facing will often feel overwhelming. But it is possible to make it through this tough time with your parents' dignity and your own retirement plan intact.
As with any challenge, the first step is to get a clear picture of what you're dealing with. But having an in-depth conversation about your folks' money situation can be tough for everyone involved.
"Sometimes the parents won't share all the details with the kids," Gary explained. "They don't want them to know how bad it really is. As a parent you want your kids to look up to you. You don't want your kids thinking less of you because you didn't manage money properly."
Jacob H.'s parents are struggling with that now. They're in their mid- and late-50s and believe they have no choice but to work until they no longer can. They're in debt and live paycheck to paycheck.
"I've tried to help them do a budget and the debt snowball," Jacob explained. "But they are very private about their money and don't want me to see just how deep the hole is. I don't know how to make them see that I want to help them—not just for their future, but for myself, my peace of mind, and my family."
Gary says kids can avoid putting their parents on the defensive by changing the tone of the conversation. Start off by focusing less on what your parents are doing wrong and more on how they want you, the kids, to handle their money when they no longer can.
"We use a tool called the 'family love letter' as an icebreaker to get that discussion started," Gary said.
The love letter is a document designed to help parents collect important financial and medical information in one place, Gary explained. It's in the form of a love letter from the parents to the kids with the intention of making things easier when one or both of the parents are gone.
With the love letter as a guide, you can cover the basics, then dig deeper into the problems and find workable solutions together.
Retirement Talks With Your Parents Can Still Be Tough
Even with the lines of communication open, things don't always go smoothly. Mom and dad can feel vulnerable once their true retirement situation is out in the open. And you may have to engage in some tough love to get them to understand the need to change their ways.
Liz A. knows what that's like. Her mother is in deep financial trouble. She makes good money, but she's in debt and often has to borrow from Liz and her sister to pay bills. "She will not listen to anyone about her finances," Liz says. "She gets emotional and very, very defensive."
In cases like that, Gary says it can be helpful to bring in a third party as backup.
"I had to have a tough talk with one retired couple," Gary told us. "The kids thought mom was spending too much, but they didn't know how to tell her—so they asked me to tell her."
The kids were right. Mom's spending had put the couple in danger of running out of savings in less than three years. Gary didn't sugarcoat the truth. He told mom she could keep spending like she was and be forced to change when the money ran out. Or, she could change today and their money would stretch a few more years.
"She got a little defensive at first, but after she let it sink in, she finally agreed she needed to stop spending so much," he said. "That was a difficult conversation to have, but it's a fair thing to ask of your investing professional. We're here to walk through life with you any way—and this is a real part of life."
Your Retirement Is Still Your Priority
As the child of an unprepared retiree, you probably feel it's your duty to step in and help your parents make ends meet. According to a study by Pew Research Center, more than 75% of Americans believe adult children should help their aging parents with their money problems. Around 20% of adult children have given their parents financial assistance in the last 12 months, and that number will only grow as more and more Americans reach retirement age.
That leads to the concern Jessica K. poses so honestly: "I'm incredibly scared of having to provide for my parents once they get to retirement age," she said. "I honestly don't know how we are going to help them while trying to build up for our own future."
Gary says that as tough as it sounds, you have to focus on your own retirement plan first. Then provide whatever help you can, when you can.
"Some kids are going to feel guiltier about that than others," Gary said. "But it's the same as when Dave says you should invest 15% for your retirement before you save anything for your kids' college. Your financial health is what will make them financially healthy—so that's what you need to focus on."
Gary has walked through this plan with several of his clients. "In one case, the daughter of the retired couple felt obligated to help her parents," Gary explained. "She and her husband had really good incomes and were doing great on the Baby Steps. In fact, they were on a good track to pay their own house off early."
Gary advised his clients to stick to their retirement plan and start helping her parents by giving them small amounts of money to help them make ends meet. Then, as extra money became available, she could increase the amount.
"A few years down the road, they paid off their own house, and that freed up a lot more cash each month," Gary said. "She was able to increase the money she was giving her parents on a regular basis."
By ensuring her own financial health, Gary's client was eventually able to do more to help her parents than she would have been able to if she and her husband had sacrificed their goal of paying off their home early.
Related: Listen to Chris Hogan's Retire Inspired podcast, episode #22: "Do You Want to Help Mom and Dad?"
Protect Your Retirement With Long-Term Care Insurance
As the kids have more money available to help their parents, Gary recommends they consider buying long-term care (LTC) insurance for mom and dad to help cover expenses related to their nursing home, in-home or assisted living care.
"It's going to fall to them later to pick up those expenses anyway," Gary reasoned.
Sandy L.'s mother suffered a debilitating stroke two years ago, and she now lives in an assisted living facility where she can receive the level of care she needs.
"Long-term care is so expensive!" Sandy said. Even though her parents built a solid retirement fund, it will only last another 12 to 18 months at the rate they're currently paying for her care.
Gary says paying for your parents' LTC coverage is an investment in your future as much as it is your parents'. "It's basically an estate planning tool to prevent spending down your own retirement savings to take care of mom and dad in the nursing home," he explained. "We hope it's something you never need, but it's better to pay $300 a month for LTC so you don't have to spend $60,000 a year for the next 10–15 years for nursing home care."
"I'm seeing firsthand what happens when the money runs out—even when you've planned," Sandy said. "My husband and I are working with an investing professional to give us direction now. I am thankful we started early to save regularly for retirement."
Times May Be Tough, but They Can Also Be Rewarding
Many times a parent's financial challenges end up as a blessing for the entire family. As a single mom, Krystle M.'s mother was never able to build up much of a nest egg. But when Krystle, her husband and their two kids recently moved from Pennsylvania to South Carolina, they invited her mom to move with them.
"We were fortunate enough to have her move in with us," Krystle told us. "She watches our kids and helps out around the house—essentially she was able to retire when we moved, and it has taken a great burden off of her."
Lori W. cared for her aging parents financially and physically when health issues made it impossible for them to live on their own. "For the last three and a half years, we cooked three meals a day and were on call 24 hours a day," she told us. "We did our best, and now that they have both passed away, we have peace knowing we did what was right for my parents."
Lori added that she and her husband never had a large income, but because they were debt-free, they were in a position to give her parents what they needed and keep their own retirement savings on track.
"We may not have the standard of living of some, but we are content," she said. "When my husband retires, we will be free for ministry!"
Keep Your Retirement on Track by Working With a Pro
In the end, there is no magical solution that will make it any easier to support your parents in retirement. But with a lot of communication, a sense of teamwork, a commitment to stick to your own retirement plan, and a relationship with an investing professional, you and your parents can find the silver linings in this challenging time—and maybe discover a way to appreciate this new chapter in your relationship.
Looking for an investing pro who's committed to educating and empowering you so you can reach your retirement goals? We've vetted hundreds of investing professionals across the country and can connect you with a qualified pro near you.