Unless you were born into a wealthy family—and most of us were not—there are two keys to building long-term financial security. The first is to set aside a certain percentage of your income for your retirement. The sooner you establish that habit, the more successful you'll be at building up your nest egg over the years.
The second key is homeownership. Buying an affordable home in a good location will almost always pay off—even if you have to wait through a bumpy housing market and slow recovery.
But have you ever considered how your next home purchase can affect your retirement? All you have to do is choose the wrong home and your retirement savings plan could be in trouble. Let's look at a couple of ways the wrong home can impact your retirement outlook.
Robbing Retirement to Make the House Payment
Shawn and Melissa are in the market for a new home. Melissa is a stay-at-home mom, and Shawn makes $60,000 a year. They invest 15% of their income for retirement, and they should not commit any more than $1,000 of their income for a mortgage payment.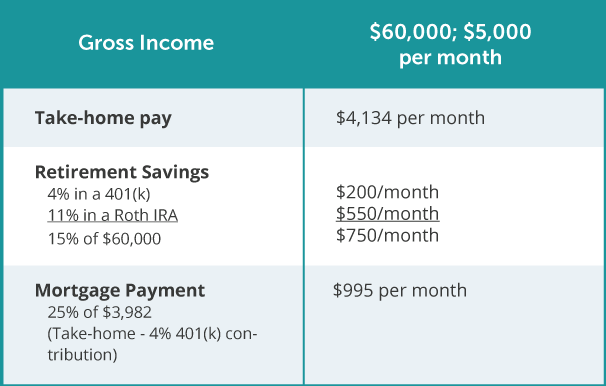 Thanks to the hot housing market in their area, Shawn and Melissa expect to make $30,000 on the sale of their current home. Their down payment and monthly payment amount means they can look at homes that cost up to $165,000.
But a hot housing market works both ways. When it's time to buy, Shawn and Melissa will face a lot of competition with buyers looking for homes in their price range. It will be tempting for them to adjust their price range up in their quest to find a home.
To make a larger mortgage payment fit into their budget, they could simply cut the amount they set aside for retirement each month. At first glance, it's a move that makes sense. A home is an asset after all, right?
But cutting just $100 from their investing budget in order to afford a $180,000 home could reduce the amount they could have for retirement from $1.63 million to $1.4 million—a $230,000 difference.
Could their new home grow in value enough to make up the difference once Shawn and Melissa are ready to retire? Sure, it's possible. But even if it did, if they plan to sell the home and downsize when they retire, they'll have to use proceeds from the sale to buy their new, smaller place. That means less money in the nest egg for living expenses during retirement.
If they stick to their original plan and buy a home they can afford while still investing 15% of their income for retirement, Shawn and Melissa will have a paid-for home plus an additional $230,000 in their retirement account when they're ready to retire!
Stretching Out the Mortgage Means Short-Changing Retirement
Another option homeowners often turn to when they want to buy a home they can't truly afford is the 30-year mortgage. If Shawn and Melissa get a 30-year mortgage instead of a 15-year mortgage on a $180,000 home, their monthly payment would be just over $700 a month—much more affordable. Plus they'd still be able to set aside 15% of their income for retirement.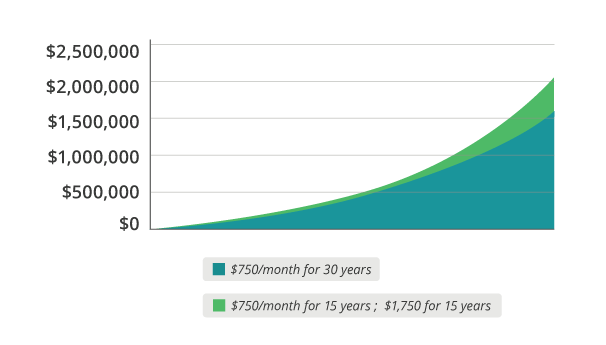 But the couple has always planned to get a 15-year mortgage, pay it off, and add their house payment to the amount they invest for retirement each month. With a 30-year mortgage, however, they wouldn't be able to follow through on that plan, which could result in a $420,000 difference by the time they retire. In addition, they'd pay more than $55,000 in additional interest with a 30-year mortgage.
To keep their retirement plan on track, Shawn and Melissa need to stick to their budget—keeping their maximum payment at $1,000 a month and their price range no more than $165,000. If they can get a great deal on a home that's under budget—that's even better!
Buy Your Next Home With Retirement in Mind
Shopping for a home while keeping your long-term retirement goals in mind can be challenging at any time. But in a fast-moving housing market like most of the country is experiencing right now, it's even more important to keep your eye on the retirement prize!
You don't have to navigate that process on your own. We can put you in touch with an experienced real estate agent who will respect your budget and help you choose a home that will keep you on track with your long-term financial goals.
For more motivation, information and resources to help you plan for your dream retirement, check out Chris Hogan's Retire Inspired Podcast.