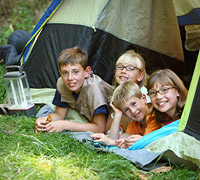 In a few weeks, parents will face the annual summer break challenge—find fun, safe and maybe even educational child care that won't break the budget.
It's a tall order, but not an impossible one. Consider some of these options:
Parent Networks
You might be feeling a little panicked about your summer child care options, but don't worry. A lot of parents are feeling the same way. So why not network with other parents in your community to exchange free child care?
These networks are sometimes called child care co-ops. They work especially well for parents who work part-time or on odd shifts. If you need child care during the day, for example, pair up with a parent who works evenings. You take care of each other's kids while the other is at work—for free. Your budgets won't take a hit, and your kids get the benefit of built-in friends to hang out with all summer.
Summer Camp
Who wouldn't want to spend a couple of weeks hiking, canoeing, horseback riding, and making lifetime friendships? Summer camp may not be as budget-friendly as free child care, but most day and overnight camps offer discounts or scholarship programs to reduce the expense. And you can't beat the benefits of getting your child off the couch and building great summertime experiences.
Day camps, in particular, can be geared to your child's interests. One week they may have swimming classes, another week they may have art or basketball lessons. It's another great way to keep kids' minds engaged rather than soaking up cartoons.
Churches and Volunteer Organizations
Check with local churches to see if they offer summertime child care or activities. Chances are they will be less expensive than traditional day care.
Older children can volunteer with community service organizations. Check with the local Boys and Girls Club, 4-H Club or YMCA to see if they have any summer volunteer programs.
Flexible Schedules
You'll probably end up using a combination of options to get through the summer, which means your schedule could quickly become a hodgepodge of work and taxi-driving responsibilities. Talk with your employer ahead of time if you think you'll need to change your schedule.
If your job allows for it, you might discuss work-from-home options. That's another great summertime solution that could benefit your family all year if it becomes a permanent arrangement.
Be Smart
You won't be comfortable with any child care solution if you aren't sure your kids are safe. Use this checklist to be sure your provider will offer safe care that's also fun for your kids:
Ask about the care provider's insurance and whether your family insurance will have to cover any medical expenses, if necessary.
Find out how long the program or camp has been in operation. How many children return each year? Check references from parents who have used the program.
Find out how many adults will be on hand to supervise the activities. What training have they had?
If possible, spend some time observing how the program, camp or child care provider works.
Last but not least, don't let your budget be your only guide while you look for options this summer. If you opt for camp or volunteer activities, be sure you're signing your child up for something he or she will enjoy.
When you find an option your kids love, sign up for it next year as soon as possible. You'll usually get discounts for early registration, and you'll have a headstart on next summer!
Dave offers a wide variety of resources to help you teach your kids responsibility with money. Summer is a great time to start these fun programs!