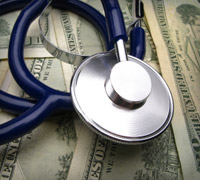 You probably already know about the U.S. House of Representatives' vote to approve a major overhaul of America's health care insurance system. The whole "health care reform" process has been drawn out and confusing. And, it's not over yet.
In the March 21 vote, the House approved health care reform legislation that the Senate passed late last year—with some changes. President Obama signed the bill into law on March 23.
The bill, which is the largest expansion of federal heath care guarantees since Medicare and Medicaid were introduced 40 years ago, actually stretches the changes over a 10-year period. The goal is to provide coverage to all U.S. citizens, regardless of income or health condition.
Most people—those who are currently receiving health insurance through their employers—won't see dramatic changes, at least initially. Most of these changes will take effect within six months of the reform package's approval:
Insurers will not be able to deny coverage to children with pre-existing conditions. The same guarantee will apply to adults in 2014; $5 billion will go to provide them coverage until then.
Insurance companies will not be able to place a limit of how much they will cover. Currently, most companies have caps on how much they will pay annually and over your lifetime.
New private insurance plans will have to cover check-ups and other preventative medical services with no co-pays.
Small businesses with fewer than 50 employees will receive tax cuts to help pay for health care premiums for their employees.
Seniors on Medicare will receive a $250 rebate to help fill in current gaps in prescription coverage.
Adults under age 27 can continue to be covered by their parents' health insurance.
What Does This Cost You?
While these changes seem positive, the country is split over other provisions of the legislation. In particular, a mandate that all Americans purchase health insurance by 2014 and the resulting expansion of government are huge concerns. The U.S. has never required its citizens to purchase a product or service, and many states are lining up to file lawsuits that say such a requirement is unconstitutional.
Questions also remain about the actual cost of the reform and how it may affect the quality of care. The bill currently delays fees to pay for the reform until 2011, and tax increases on high income earners begin two years after that.
It's important to learn everything you can about the legislation, so you can understand how the pros and cons will affect you. We're committed to addressing the issues as the details become clearer.
For now, you can take a look at a timeline of changes currently included in the legislation.