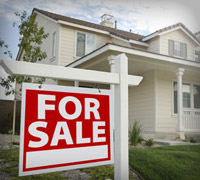 "How much house can I afford?" Depending on whom you ask, you could get some surprisingly different answers.
There is no magic dollar amount for the "perfect home." How much house you can afford is as unique as you are and is based on many factors—your location, income, savings, personal preferences, and most importantly, the house-buying plan you have in place.
Before you consider buying a home, you should be debt-free and have three to six months of expenses saved in addition to your down payment (more on that later). Being debt-free with money in the bank will keep you from losing your home in the event of a job loss or illness.
Also, if you're married, you should be married for at least a year before you buy a home. Don't add the stress of a home purchase to a brand new marriage, and never buy real estate with anyone you're not married to
The ideal way to buy a home is the 100%-down plan. Sounds weird, doesn't it? But think how much fun that would be. No mortgage! No payments!
If you can't postpone the purchase until you can pay cash, buy a home with a down payment of at least 10% on a 15-year (or less) fixed-rate mortgage. Limit your monthly payment to 25% or less of your monthly take-home pay.
You want your new home to be a blessing, not a curse. If you buy a house with nothing down and a huge monthly payment, you're inviting Murphy to move into the spare bedroom. That means everything that can go wrong will go wrong—believe it!
Use this checklist of important questions as you determine how much house you can afford. If you cannot answer "yes" to these questions regarding the house you have your eye on, then it's not a wise move to buy it right now.
Can I make at least a 10% (preferably a 20%) down payment?
Can I keep house payments at or below 25% of my monthly take-home pay? Here's a calculator to help you quickly calculate your payment.
Can I afford to take out a 15-year fixed-rate loan?
Am I working closely with a real estate agent I can trust?
If your're ready to buy a home a real estate Endorsed Local Provider will ensure you get a great house you can afford.
Happy house-hunting!