Home Buying & Selling
Home Sales Are on Fire. How Hot Is Your Market?
It's official: Home sales are on fire across the nation.
According to the National Association of Realtors (NAR), homes sold at record pace in April, and all signs point to a hot housing market nationwide for the next six months.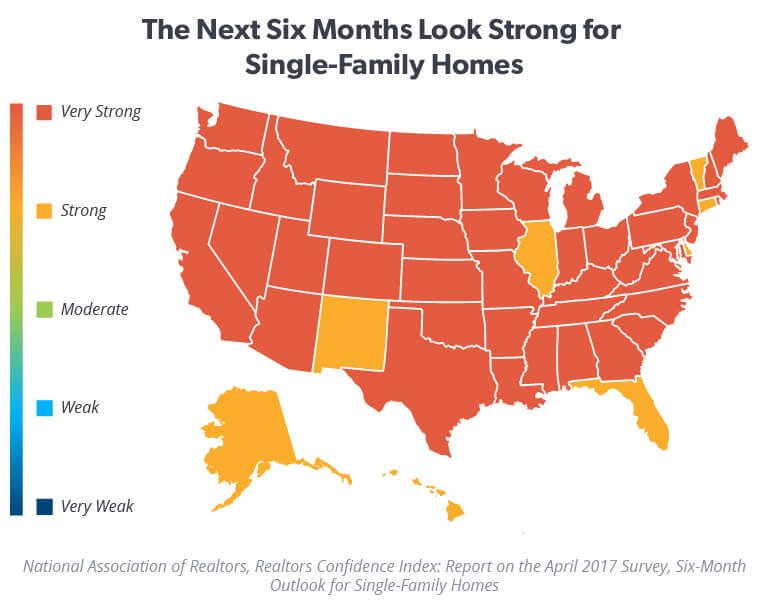 Whether you're looking to upsize your home or knock out the rest of your debt, now's an awesome time to sell a home. Let's take a closer look at housing market trends near you based on the NAR's latest Realtors Confidence Index, a monthly survey of real estate agents. (1)
Tons of Buyers + Not Enough Homes = Good News for You
First, let's start with a simple comparison. The first map represents buyers searching for homes, while the second map shows homes available.
As you can see, buyers are out in full force in almost every state, while sellers are few and far between in more than half the country. When buyers outnumber homes available, it's called a seller's market. The bigger the gap between buyers and sellers, the hotter the market.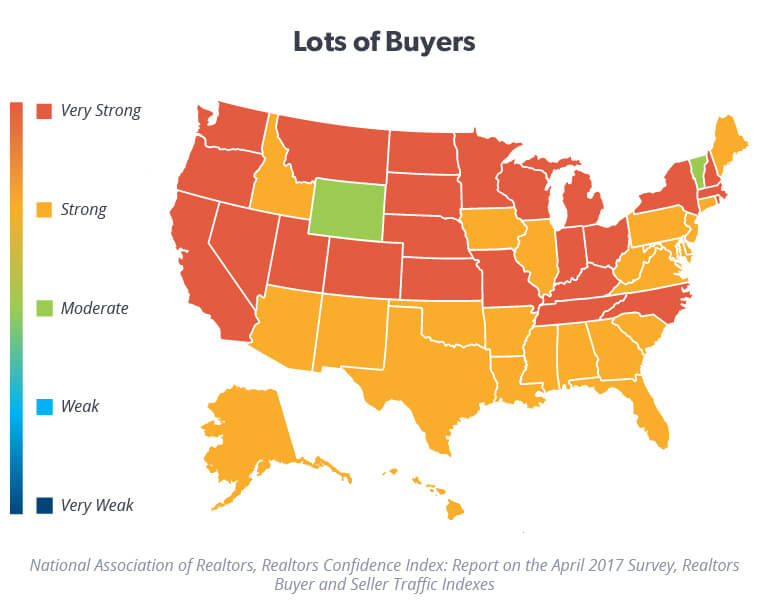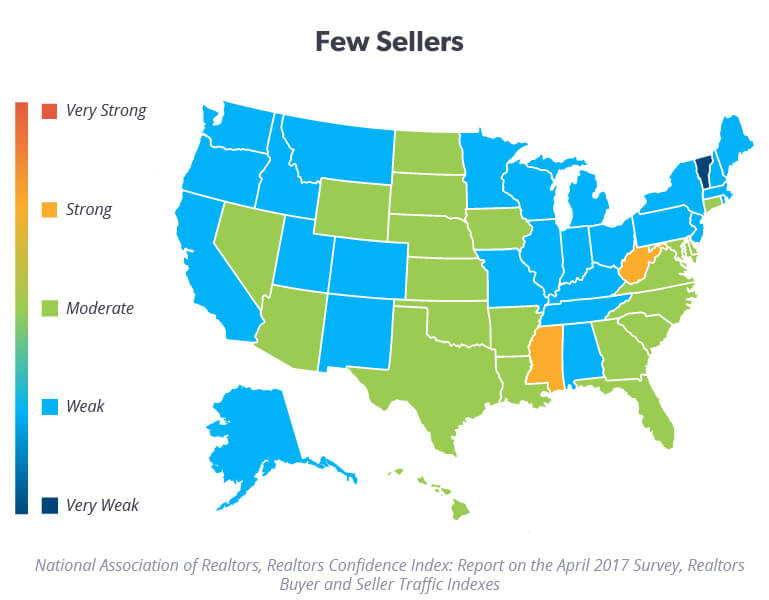 What does that mean for you? If you've got a home to sell, don't be surprised if buyers throw ridiculous offers at you in hopes of beating the competition to the punch. Just five years ago, 28% of homes sold at or above asking price. Since then, that number's skyrocketed to 45%. Let the bidding wars begin!
Local experts you can trust.
Find an ELP
Brace Yourself: 50% of Homes Sold in 29 Days or Less
It's already shaping up to be a record-breaking year: Nationwide, half of sellers had an accepted offer in hand less than a month after listing their home. That's the fastest homes have sold since the NAR started tracking days on the market in 2011! And the pace is only expected to quicken as summer heats up the housing market nationwide.
So does that mean you can bank on a quick sale in your area? Not necessarily. In about a dozen states, the typical home still spends two months or more on the market. If that's the case in your area, get your home in top shape and price it right before opening your doors to buyers.
Here's a state-by-state breakdown so you can see how long the typical home stays on the market in your area.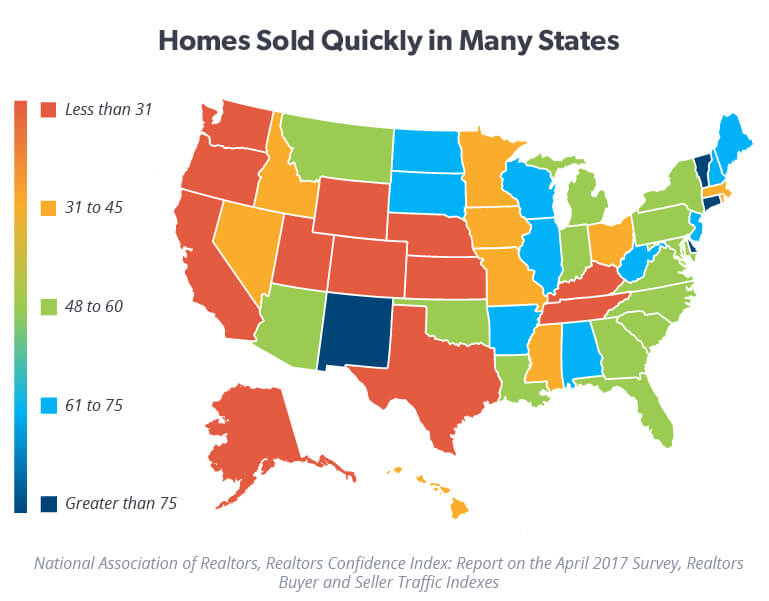 Worried you'll have trouble buying a home once yours sells? Check out 5 Ways Home Buyers Like You Survived a Seller's Market.
Cha-Ching! Today's Housing Market Is Heating Prices Up Too
The median price for existing homes was $244,800 in April. That's 6% more than it was a year ago.(2) And the NAR expects prices to continue that upward trend over the next 12 months, growing another 4.2% nationwide. If your home's worth $250,000 today, that means you could see a $10,500 boost in value over the next year. Not too shabby!

How are home prices trending where you live? Here's what the future has in store for your state.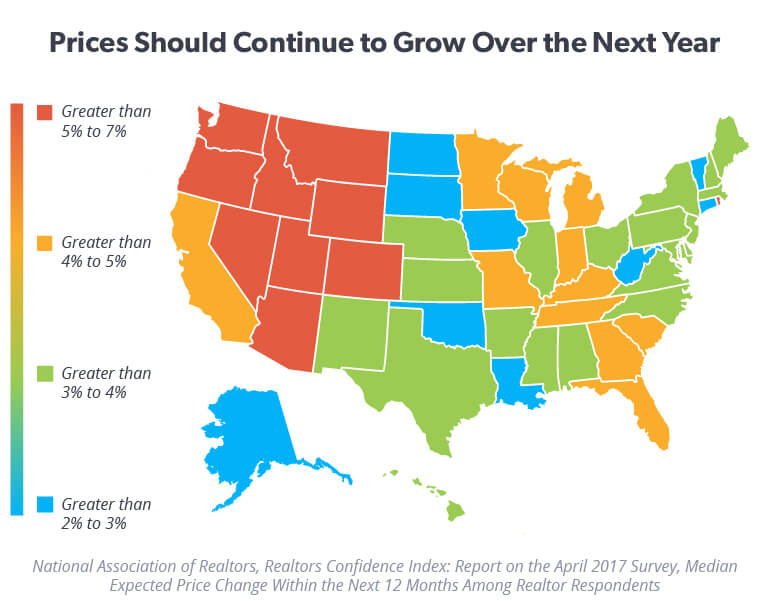 Now that we know "where prices are headed, let's look at how far they've come over the past five years. After all, that's a big part of figuring out whether selling your home is even worth it. Here's a regional comparison so you can see how home prices have grown in your area.(2)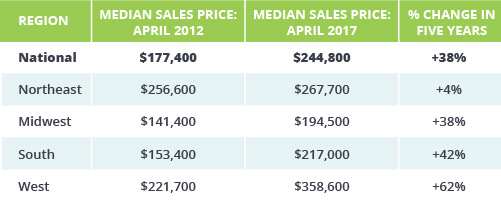 Of course, every market is different, and your city may not fall exactly in line with the rest of your region. For example, let's say you bought a home in Phoenix five years ago. Back then, the median sales price was $129,900. Today, it's $234,000, according to the ARMLS.(3),(4) That's an 80% change for the better!
Imagine the difference you could make with a six-figure chunk of change. Here's just one way your cash could play out: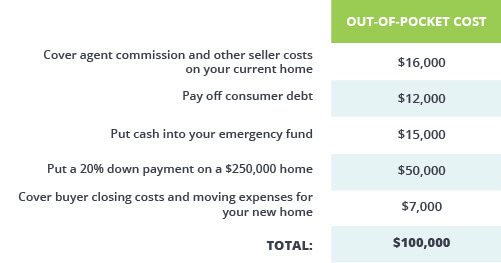 Ideally, you should make enough off your sale to put at least 10–20% down on your next home purchase. Even better, use the proceeds from your current house to pay cash for your next one and kiss your mortgage buh-bye forever!
Does Selling Your Home Now Make Sense for You?
Selling your home is a huge financial decision, and you can't base it solely on national numbers or a single scenario. That's why it's important to know how much your home is worth today where you live.

You can find all sorts of home value estimates online, but they're not known for accuracy. If you want to base your decision on real numbers, ask an experienced real estate agent to run a comparative market analysis (CMA) for you.

A CMA may sound complicated, but it's simply a detailed report that compares homes near you that are either on the market or have sold in recent months. The goal is to find homes in your immediate area that are most like yours. This enables your real estate agent to more accurately predict what buyers will pay for your home.

A true pro will take time to walk you through the results so you understand exactly how your home stacks up to the competition. With this information in hand, you can work with your agent to set a competitive price.

Ready to find out what your home is worth? Get a free comparative market analysis from a real estate agent who's earned Dave's endorsement for excellence in your area.