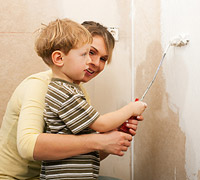 Kids aren't the only ones who have homework to do this fall. As the kids head back to school and do their homework every night, it's important for adults to also do their own household homework. Maintaining a well-run household is hard work, but the more you get into a groove of accomplishing your tasks, the easier it becomes!
Here are 10 "assignments" to add to your household homework list.
Save for the holidays.
It's never too early to start saving your pennies for Christmas, birthdays, Valentine's Day and any other holiday that involves gift giving. Every year, thousands of families go into credit card debt because they were caught off-guard when Christmas came in December! Save up for the holidays so you don't have to be in debt for the rest of the year.


Check insurance rates.
Don't just assume you are getting the best insurance rate possible. When it's time to renew your insurance policy, shop around to see if you can find a better deal. It may be tedious, but it's worth saving a few hundred bucks, isn't it? Do this with home, auto and any other insurance you renew annually.


Get identity theft protection.
While you're shopping around for better insurance rates, get some identity theft protection as well. For less than $100 a year, you can protect yourself from identity theft. It takes more than $100 a year to clean up the mess if your identity is stolen, so this protection is well worth it.


Make a legacy drawer.
Stop procrastinating and just do it! You need a will and other important documents neatly organized so your family is taken care of if something happens to you. It doesn't matter if you're single and making a small income or married and have 10 grandchildren, get your documents in order!


Teach kids about money.
Don't depend on the school to teach your kids about money. You don't want the government telling your child how to spend money, do you? Make a commitment to let your kids know the importance of money and what it takes to handle it properly. This is a great way to set a firm financial foundation for them.


Get your credit report.
Every year you can get a free copy of your credit report from the three different credit bureaus. Read over each report to make sure there are no inaccuracies. If you find a mistake, correct it as soon as possible. Make it a habit to check your credit report annually.


Buy term life insurance.
Whole life insurance is a complete rip-off. If you have it, cancel your policy and get term life insurance instead. You can find low rates that won't pinch your budget every year. Plus, by the time the insurance term ends, you should have enough money saved up to cover any life situation.


Save for vacation.
Does your annual trip always leave you in debt? This year, start saving early for your vacation so you can enjoy it without paying for it later. A vacation feels even better when you're able to return home without bills in your mailbox.


Auto maintenance
Don't forget to take care of your car, too! Taking it in for regular oil changes and check-ups is preventative maintenance, and it will save you from spending lots of cash later on. Owning a car is expensive, so make sure you properly maintain it in order to cut down on costs in the long run.


Home maintenance
Buying a home is probably the most expensive purchase you will ever make. Since you put so much money into your home, doesn't it make sense to take care of it? Don't ignore routine maintenance, like checking your HVAC unit, making sure all of your windows seal correctly, and fixing or replacing things that are broken. Take care of your investment!
These are just some of the ways to be an A student in your home. Try keeping a list on your refrigerator, devoting some time to a task each week, and then enjoy crossing items off the to-do list! You'll breathe much easier knowing your homework's getting done.
When was the last time you fine-tuned your budget and made it work the best for you? Find out how Dave Ramsey's Financial Peace University will help you dump debt and build wealth.