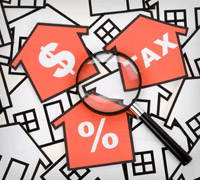 As the clock ticks toward the deadline to file your income taxes, don't forget to check out these deductions and credits specifically for homeowners.
Mortgage Interest
It's estimated that 60% of homeowners miss out on their deductions for mortgage interest each year, resulting in billions of dollars in overpaid taxes. The IRS allows you to deduct 100% of the mortgage interest you paid in 2010, but you'll have to itemize your return to claim it.
Real Estate Taxes
You can also deduct up to $1,000 in real estate taxes, even if you don't itemize your return!
Mortgage Debt Forgiveness
It's been a tough few years for many homeowners, with foreclosures, short sales and loan modifications becoming more and more common. Normally, any mortgage debt that is "forgiven" under these circumstances has been taxed as Cancellation of Debt Income, or CODI. But for 2010 through 2012, the IRS will not tax CODI on most primary residences.
First-Time Homebuyer's Credit
To qualify for this credit, first-time homebuyers had to either buy a home or enter into a binding contract to buy a home by April 30, and close on that purchase by September 30 to receive a tax credit of $8,000 (or 10% of the purchase price up to $8,000).
Move-up or longtime homeowners who closed on a new home by September 30 qualify for a $6,500 tax credit as long as they lived in the same principal residence for five of the last eight years before they bought their new home. These are tax credits, which we love because they lower your tax bill dollar for dollar!
Home Improvements
This is the last year to claim your $1,500 tax credit for certain energy-saving home improvements such as high-efficiency heating and air conditioning systems, water heaters and skylights. You'll get a break on up to 30% of the costs of these improvements made in 2009 or 2010.
Don't Forget...
There are more tax breaks for homeowners, such as deductions for your home office, origination fees or discount points, and mortgage insurance. Be sure to ask your tax preparer if there are any additional deductions you qualify for.
If you're considering buying or selling a home this year, contact one of Dave's real estate Endorsed Local Providers (ELPs). Dave's ELPs are experienced real estate professionals who are experts in your local market. Get in touch with your ELP today!