Home Buying
Homebuilding 101: The Budget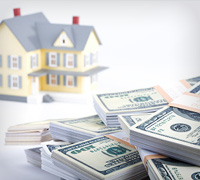 Building a house is full of highs and lows, and we're not just talking about the price of materials. No matter how excited you are or how frustrated you get about building your home, you can never forget that house-building is business and you're the boss. That means getting the result you want is up to you.
Nailing Down The Budget
If you're asking, "How much will it cost to build the home I want?" you're asking the wrong question. Lots of people fall in love with a house plan online that's about 1,000 square feet too big and includes a gourmet kitchen and home theater.
That's easy to do, but it's backwards. Instead, ask "How much house can I afford?" You know what that means—you 're debt-free and have a three-to-six-month emergency fund in place. If you aren't paying cash to build your home, which is Dave's first recommendation, you'll need a 15-year mortgage with at least 10% down and payments that are no more than 25% of your take-home pay.
Preconstruction Expenses
Now, you've got a figure to work with—either your savings or your mortgage amount. But you still aren't ready to shop for house plans.
If you're borrowing money, will the land cost be included in your mortgage? That will reduce what you have to spend on the home itself, so deduct the cost of the property from your starting budget amount.
You should also budget for plans, fees, permits, utility hook-ups, etc.
Ease Into The Search
Now, you can do a couple of things to determine what you can buy:

Find expert agents to help you buy your home.
You can check out homes for sale in your price range in the area you want to build.
Or, as you begin talking with contractors, ask them to suggest plans for houses they can build in your price range.
Either way you'll get a good idea of the cost per square foot as well as a taste of the style of house you may or may not want.
Apples To Apples
Two things to keep in mind at this stage:
While property values have dropped, the cost to build a home hasn't fallen as much. An existing home may be a bargain compared to building that same home today, depending on location.
Take contractors' suggestions with a grain of salt. They're trying to get you as a customer, so they may slightly over-promise what they can deliver. You can compensate by giving them a smaller, hypothetical budget to work from.
Finally, The Moment You've Been Waiting For
Once you've picked your building site, you can use this information as a guide to finally start shopping for house plans. Most home plan websites let you search plans based on square footage and special features. That will help keep you from being overwhelmed by the huge selection of house plans out there. You can also consider working with an architect if your budget allows. Their services are pricier, but can be worth it when your house is complete.
If you're considering building, buying or selling a home, you can use the advice of a good real estate agent. Talk with one of Dave's real estate Endorsed Local Providers today!