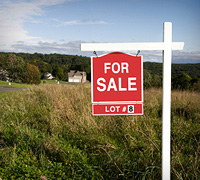 Site selection may sound like a snooze—soil testing and utility hook-up discussions are not exactly glamorous. But where you build your home will have a huge impact on your construction budget, as well as how happy you are while you live in your home.
Location Is Forever
The three most important factors determining the value of a home are—say it with me—location, location, location. Location is the one thing you can't change about your home once you start building, so keep these tips in mind:
Can you build on it? This may sound obvious, but it's a costly mistake to make. Normally, a seller is required to tell you about any zoning restrictions, water source issues or whether the property will support a septic system, if necessary. But it's wise to hire an expert to get answers on these issues before you decide to buy.

Think long-term. Think about your family's needs and how they may change over time. If you're single or newly married, your needs will change as your family grows. How good are the schools in the area you want to build? Are there safe places for children to play? Are there entertainment options for all ages?

Consider the investment. The expense of building a home is a huge investment. You can capitalize on your investment by building in an area that's likely to increase in value in the future. Desirable school districts, convenient shopping and growing neighborhoods are all indicators of property that will be worth more if and when you decide to sell.
Plan For Hidden Costs
We talked about budgeting for your land purchase in another Homebuilding 101 article. Your plan should include funds for fees, permits and utility hook-ups. You'll also need to budget for installation of a septic system if your property doesn't have sewer service and for digging a well if there is no municipal water service. Consider costs of clearing and leveling the lot and removing any rock if necessary. Get the advice of a pro on these issues as well.
What's The Big Deal?
We all know how great it is to get a deal, but having said that, don't let price be the only deciding factor in your property selection. Property price can vary greatly based on location, but we've already discussed how location can affect how happy you are in your home and how much its value will increase over time. The value of the property may justify the extra expense.

Find expert agents to help you buy your home.
Is that permission to go into debt to get the "perfect" site? No way! If the property you want exceeds your budget, you may need to delay construction or scale down your house plans.
When you're ready to look for the perfect location to build your home, talk with a real estate Endorsed Local Provider who will be able to find a building site that's right for you.