What if your home could look bigger without a costly add-on? What if a simple coat of paint could transform an outdated space into a haven that buyers will want to call their own?
Home staging is an art designed to show off your home in its best light. A professional home stager understands the current market—from flooring that'll make buyers swoon and paint colors that can make you money, to maximizing each space so that even the most "cozy" nook feels downright spacious.
Through utilizing your own furniture in a new way, swapping out dated pieces for more show-ready ones, or by bringing touches of the outdoors in, home staging makes the most of your home by helping buyers focus on its features rather than its flaws.
How Much Does Home Staging Cost?
Home staging doesn't have to break the bank. Some of the most important things you can do to get your home show-ready won't cost you a cent. But if you're not comfortable staging your home yourself and want to bring in outside help, you don't have to look far to find a suitable staging company—a good real estate agent should have multiple recommendations.
An initial consultation with a home stager that includes a written plan should cost you around $250 to $750.(1) When it comes to the actual staging process, monthly costs can range from $350 in Iowa to $2,400 in California for a furnished home. If you've already moved out and your home is vacant, monthly costs can vary from approximately $975 in Indiana to $5,500 in California. Homes over 4,000 square feet can cost upwards of $9,000.(2)
What Are the Financial Benefits of Staging a House?
According to the National Association of Realtors 2017 Profile of Home Staging, nearly a third of buyer's agents believe staging a home increases the offer price a minimum of one to five percent.(3)
So how do those numbers break down for you? On a $250,000 home, just a 2% increase means an extra $5,000 tacked on to the buyer's offer. If you handled the staging yourself without any added expenditures, that's $5,000 in extra cash that you get to put in the bank. If you paid $3,000 to have your home staged professionally over a three-month contract, that's $2,000 more in your pocket. If your agent is paying for the staging, you can put the entire $5,000 toward your new home or stash it away in your emergency fund.
While there's no guarantee staging your home will bring a bigger offer, it should help you stand out among the competition by making your home look move-in-ready, maximizing your space, and adding little touches that make a big difference.
Get Your Home Show-Ready With These Tips
For maximum impact, stage your home before your listing photos are taken. You want a potential buyer's first impression to be the best possible. Here's our list of favorite tips to get you well on your way to a home that buyers will want to make their own.
Spring Into Cleaning
Don't just tidy up—think spring-cleaning on steroids. From the baseboards to the ceiling light fixtures, the kitchen appliances to the windows—everything should be spotless and gleaming.
Don't have time to put that much elbow grease into your home staging? Hire a professional for approximately $100 to $300 for a true deep clean.(4)
Clear the Clutter
Haven't used it in years? Give it to someone who can. Whether it's in the pantry, attic, basement, closets, or kitchen cabinets—move the extra out and streamline the rest. Overwhelm buyers with the simplicity of the space, not a hodge-podge of clutter.
Show Off Your Storage
Can buyers see that your two-car garage can actually fit two cars? Storage is a prized commodity for home buyers. One of the keys to staging well is to show off your home's space, not your stuff. Storage sells!
Make room in your closets, leaving them at least a third empty. Store any out-of-season clothing elsewhere. Leave your closet doors open so potential buyers can see how much space could be theirs.
Space still too full? Pack the extra and ask a friend to hold onto it temporarily for you. If it's too much to handle yourself, companies like Clutter.com or Makespace.com can pick up and store the items for you—it's cheaper than you'd expect.
Organize Away
After you've cleared the clutter and stashed stuff in storage, it's time to organize what's left. Position coordinating plates to look showroom-ready, refold linens and towels and straighten what's hidden behind closed cabinet and pantry doors.
Don't be afraid to be too organized. Wooden hangers, clothes grouped and coordinated by color, and shoes neatly arranged will give your home that boutique look buyers are looking for.
Fix That First Impression
Don't let buyers pass you by before they even get through the front door! In addition to keeping the yard beautifully maintained, power wash your driveway and sidewalk and show the exterior of your home a little love by giving it a good once-over. Sand and repaint any old or chipped areas, adding a new coat to the siding, shutters, and garage if they need it. While you're at it, give that dull front door a makeover with a fresh pop of color, lay out a new "Welcome Home" mat, and flank it with flowers that will weather the season well.
Let the Light In
Most buyers want to see that a home has plenty of natural light. Remove heavy draperies and open up the curtains. Hide an unattractive view with sheer window coverings that still allow in light.
Replace any outdated light fixtures, upping the wattage in each light bulb to its maximum safe capacity. Aim for about 100 watts every 50 square feet. Need some extra light? Install lighting in dim closets and add lamps in any dark areas. Quickly update outdated lamps with clean white drum shades.
Make your home look inviting by turning every light on before potential buyers arrive, including your outside lights if your showing is in the evening.
Update Cabinets
Dated kitchen cabinets? Update them with a few coats of paint or a darker stain. Or update an outdated cabinet style by buying new faces for doors and drawers. While you're renovating your cabinets, double-check that all doors and drawers slide open evenly. Buyers will check them even if you don't!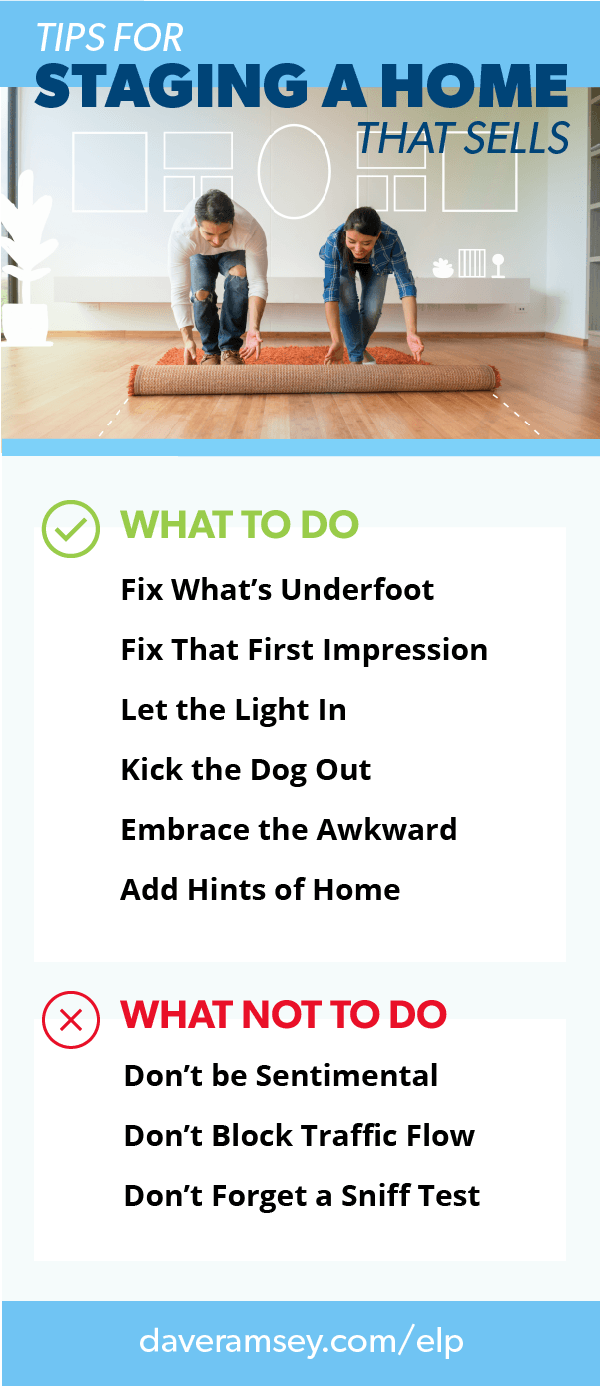 Fix What's Underfoot
If your carpets look worse for wear, steam clean them to get rid of stains and odors. If they're beyond repair, replace them with new plush carpet or a hardwood floor that buyers will love.
If your hardwood floors are in poor condition, you could refinish them for $1.50 to $5.00 a square foot.(5) Don't want to refinish the floors? Strategically placed area rugs can help with a positive first impression. Just be prepared to disclose any damage to prospective buyers.
Say Hello to Updated Hardware
Get rid of outdated hardware and aim for a brushed brass or nickel, polished chrome, oil-brushed bronze, copper, or even a stately iron.
Win With Striking Walls
To ensure your home appeals to the widest audience possible, stick with sophisticated neutrals for the most widely-used paint colors.
Just a few coats of paint can transform a dated space, giving it a more modern feel. Try a pale, serene blue for the bathroom, a soft grey-blue in the dining room, or warmer neutrals like an oatmeal-colored living room or a honey-colored hallway. Have a small room that's open to an adjoining one? Paint them both the same color to make both spaces appear larger.
Breathe New Life Into Your Bathroom
Bring dingy tubs and tile back to life by regrouting the tile and reglazing and recaulking the tub. Wrap up the makeover by washing or updating your bathmat and shower curtain.
Keep all personal items packed neatly under the sink, and stage the bathroom counter with fluffy white towels and decorative bars of soap. Give the room a spa-like feel with a small potted orchid or a vase of fresh flowers.
Bring Relaxing Back
Make the most of your backyard or porch with a swing, a café table and chairs, or a relaxing hammock with your favorite throw. Whether you have a small balcony or acres of land—buyers need to be able to picture themselves unwinding there after a long day. Show them at least one way you love to use the space!
Kick the Dog Out
Pets are family. But they're your family, not your prospective buyer's. You may be accustomed to the scent and mounds of hair they bring with them, but one whiff by a potential buyer and that winning first impression could be gone.
Before you and your pets leave prior to a showing, remove the tell-tale signs of your pets by storing away food bowls, transferring the litter box to the garage, and tucking away pet toys.
Embrace the Awkward
Have a space you've never known how to utilize? Show potential buyers it's a usable space by finding a fun way to show it off: Turn a short wall into a chalkboard family message center, transform an alcove into a charming workspace, or display a hanging planter to bring life and texture to a bare nook.
Add Hints of Home
To keep your house looking like "home," try adding a neatly folded newspaper and a vase of flowers to your coffee table or filling a wooden bowl with fresh fruit and placing it on your kitchen table. Swap out that boring utensil holder for a decorative mason jar and fill it with your best wooden serving spoons.
Don't Be Sentimental
Now is not the time to be sentimental. Your goal as a home seller is to appeal to as many potential buyers as possible. This is one time where it really isn't personal, it's business—and it's time to depersonalize.
Remove your wedding album, last year's fly-fishing trophy, and the Christmas card collection on the fridge. Set sentimentality aside and tuck those family photos out of sight and into storage.
Don't Assume Buyers Won't Look "There"
It's easy to assume buyers would never look in spots we've tried to forget about, like that junk drawer we keep meaning to clean out. But when you're staging your home, be prepared for buyers to look behind closed drawers and doors—nothing is off limits. It may be your home, but they're looking to make it their own.
Don't Block Traffic Flow
To make rooms look as spacious as possible, try to make sure each room has no more than three pieces of large furniture. Keep natural walkways clear and arrange furniture in conversation areas that frame rather than obstruct outside views.
Don't Limit Your Audience
Now is not the time to break out the kitty comforter Grandma quilted for you back in grade school or to hang up your stuffed squirrel collection. Do your best to keep spaces as gender-neutral as possible so they'll appeal to the widest audience possible.
Don't Forget to Do a Sniff Test
To keep your home smelling fresh and clean, pass on cooking seafood or your favorite garlic bread for the time being. Not living in your home during the sale? Air it out at least 15 minutes before a showing to get rid of any stale odors. Go the extra mile with buyer-friendly scents like citrus, vanilla, or even pine and cedar.
Don't Leave Valuables Lying Around
Remove the threat of theft by storing keys, expensive jewelry, prescriptions, paperwork, or other valuables off-site or, at the very least, by locking them away. Still concerned about safeguarding your home? Ask your agent to have buyers sign in before they tour the home, keeping only the primary entrance unlocked. And if you have more than one story to your home, have your agent bring someone along with them to keep an extra eye out for you.
Now That You Know How to Stage a House, Connect With an Agent!
We hope these practical tips will help pave the way for a smooth home-staging journey and a home buyers will soon want to call their own!
To make the most of your newly staged home, don't settle for second best. Our Endorsed Local Providers (ELPs) are in the top 1% of real estate agents in your area. Partner with an experienced real estate professional you can trust.