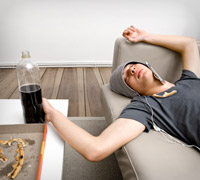 They've turned the tassel, walked across the stage, thrown their cap into the air and ... moved back in?
Lots of recent graduates are making the decision to move back in with their parents to wait until the job market picks up, according to National Association of Colleges and Employers President Manny Contomanolis. That association's statistics show that the job prospects for this year's graduating class are considerably below the average of the last five classes.
The chances for a person finding the job they want may be lower than normal, but the chances are zero if they "wait it out." It can be a dangerous trap to move back in with family and have no job, because a young person can become complacent. If you are not being charged rent, have no budget, get your food for free and have no alarm clock to wake you up, you have no incentive to chase after a job.
Also, the kids who do get the jobs that are out there will be much further ahead of the ones who just decided to stay home and do nothing. Don't let your children do that to themselves or their careers.
If your kids move back in, make sure they are doing things that will either land them a job or help around the house. You must always be working or looking for work in order to stay sharp. If you get too many chances to be lazy, you'll become lazy and lose motivation.
Set a deadline for them to be out of the house. It's not cruel to do this—the cruel thing would be to give them no responsibility and have them lose their edge. A deadline will motivate them. It will get them to check the calendar and be aware of how much they are doing to get a job and become self-sufficient.
If they are living under your roof, then they are not too big to take out the trash, clean the bathroom or feed the pets. While they are doing this, set standards for how many jobs they apply for, how many interviews they go on, etc. You are not controlling them by doing this—you are motivating them.
Love your kids enough to hold them accountable. You can take pride in it now, and they'll thank you for it later.
Another way to help your newly graduated young adult is to pass along these helpful career-related articles at daveramsey.com.