Getting out of Debt
How High Schoolers With Learning Disabilities Are Winning With Money
All 300-plus students at Roosevelt Academy in Lake Wales, Florida, contend with learning disabilities. But thanks to an innovative approach to learning, educators at the Title I school are ensuring these young people succeed.
Between the student-run restaurant, hydroponic farm, landscaping service and outdoor furniture company, kids at Roosevelt practice real-world skills to prepare them for life beyond the classroom. That's why math teacher Phillip Miles uses Dave Ramsey's high school curriculum, Foundations in Personal Finance, to educate his students on money issues early.
"This material has more real-world application than anything kids are ordinarily exposed to, particularly when it comes to math," he says of Foundations, which is completely free to the school and its students thanks to a sponsorship from Fifth Third Bank. "I think something like this should be required by every school in the country."
An introduction to hope
In addition to learning about tape measurements and taxes, students in Phillip's Life Skills Math class spend the majority of the year learning how to budget and how not to blow their paychecks. At first, he says, students were a little apprehensive about Foundations, but now they're totally sold.
"Nobody has ever told them that if you save—and particularly if you start young—you're going to be able to buy a car with cash, you're going to be able to afford a house, and you're going to be able to retire with a good bit of money in the bank," he says. "They've never heard that before, and when they hear it, they get excited."
The money course that will change your life!
Get Started
At the end of this school year, Phillip prepares an exam with 85 personal finance questions. He says most adults couldn't pass this test, but his ninth and tenth graders with learning disabilities nail it.
"Of my 45 students, most of them passed—several of them even scored a 100 on this test," he says. "Again, keep in mind that all of these students have learning disabilities and perform below grade level. But they excelled with this curriculum."
Homeschooling
Kids are even switching roles at home and teaching their parents how to win with money.
During a parent-teacher meeting, a student's mom encouraged her son to open a credit card and establish enough credit to buy a car. He told her he wasn't interested in going into debt, and he would save up and pay cash for his first car.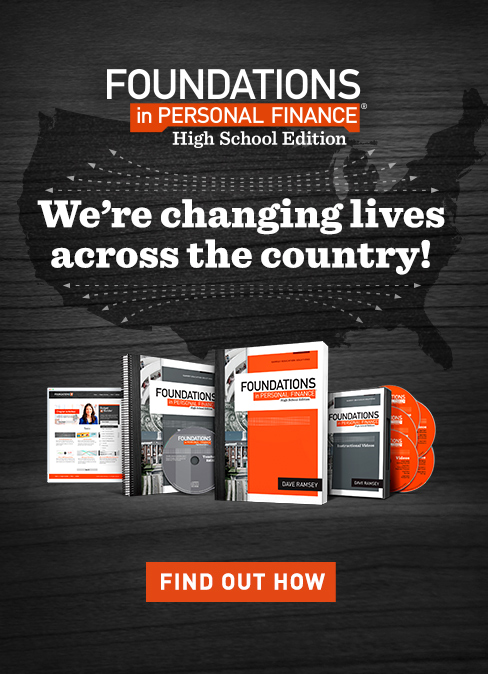 Shortly after his eighteenth birthday, another enthusiastic student arrived home to find three credit card applications in the mail. After learning the dangers of debt in math class, he and his family built a campfire the following weekend and burned all the applications!
Another student served as the catalyst that caused her parents to start repaying their debts from smallest to largest using Dave Ramsey's debt snowball method.
These teenagers aren't just practicing what they learned in a class—they're changing their family trees.
Why it's working
Their teacher's passion is a big part of the reason these young people are so excited and engaged. Before he was a finance teacher, Phillip was a fresh-faced college grad with loads of credit cards, student loans and a house he bought with no down payment.
So when he moved to Florida in 2011, he developed a plan to change all that. "I went from a mortgage that was half of what I was making to a mortgage that was one-sixth of what I was making," he says. "I started to live within my means."
As of July, Phillip and his wife Rebekah paid off their last credit card. They expect to be totally debt-free within a year's time. He believes God has allowed him to teach Foundations and share his story with these extraordinary students so they don't fall for the same money myths he did.
"I tell them quite often that I wish I'd had a course like this when I was in school," he says. "Every bit of it is relevant to my life now, and I tell them that. My hope is that they can learn from my financial mistakes and not repeat them."
Throughout the country, more than 1.5 million students have learned how to win with money using Dave Ramsey's Foundations in Personal Finance curriculum. As part of their Financial Empowerment program, Fifth Third Bank has generously sponsored more than 500,000 of these students to make sound financial decisions for life.
For more information about Foundations in Personal Finance or to be connected to a Curriculum Advisor, please visit us at RamseyEducation.com/teacher. Check back each week this summer to read more about how America's teachers are changing lives.