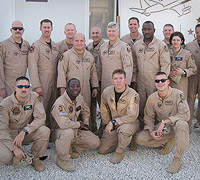 Operation Iraqi Freedom
Colonel Norman Potter with some of the men and women he served with at Al Udeid Air Base, Qatar after a mission over Iraq.
We talk a lot about debt around Dave Ramsey's office.
We do our best to help people get out of debt with gazelle intensity, pay back their creditors, and work through the debt snowball. Around here, debt is dumb and cash is king. Simply put: we hate debt.
But there's one type of debt we'll never be able to pay back—and that's the debt we owe to the millions of veterans who have put their lives on the line for our freedom. From the Revolutionary War to the current conflicts in Afghanistan and Iraq, more than one million veterans have sacrificed their lives to protect our country and what it stands for.
Retired Colonel Norman Potter, a 35-year veteran of the United States Air Force, knows first-hand the sacrifices that many men and women make every day.
"Veterans Day is an opportunity for all Americans to honor those who have served our great nation and sacrificed to ensure our 'republic' stands," he said.

Lead others to financial peace! We will show you how. Click here.
Colonel Potter says he's honored to have served with so many servicemembers over the years. While he was a Lieutenant Colonel stationed in Japan, he led his aircrew in flight operations over the Korean DMZ, counter-drug operations in Central and South America, and the UN-mandated "no fly zone" operations in Iraq.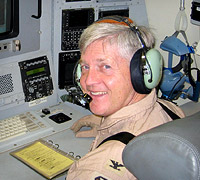 Colonel Potter on a Mission
During his 35 years in the Air Force, Colonel Potter led his aircrew in flight operations all over the world.
"I'll always remember the dedication of the men and women whom I served with during three wars and 35 years in the United States Air Force," he said. "Their ability to operate as a team and do the impossible while being so far away from their homes and families has been forever imprinted in my mind." He said he'll never forget the 14 friends he lost in different aircraft incidents during his time in the Air Force.
When talking about current servicemembers and veterans, Colonel Potter makes a point to also bring up the spouses. "It's extremely difficult for Americans to understand the hardships placed on our military families," he said. "Faced with low pay, uprooting children to move across the country, long separations, and even death, the spouse is the 'rock' who holds it all together."
For that reason, Colonel Potter joined Dave Ramsey's team to help provide servicemembers and their families with a solid financial education. "Financial Peace Military Edition will give them hope to free themselves from the bondage of debt so they will increase their effectiveness and focus in the field," he said.
Dave's team has barely scratched the surface of helping military families and veterans overcome financial stress. On Veterans Day, we're even more aware of how important this job is.
So no matter how busy you are today, take some time to remember and thank the veterans and their families who paid the ultimate sacrifice.
Learn how Dave's military program helps soldiers and their familes strategically remove debt and build wealth so that they aren't weighed down by money worries.