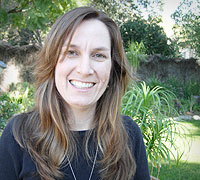 Coordinator Diane Gohl
"I want them to know how to really succeed on a greater level once they have a job."
The numbers are staggering.
Depending on the source of the statistics, anywhere from 4 to 27 million women and children are currently victims of human trafficking.
Because of the subversive nature of the crime and the almost invisibility of the victims, human trafficking is highly underreported. But one thing is clear: this form of modern-day slavery is a heart-wrenching issue throughout the United States and the world.
Some of these women were uprooted from their homes and involuntarily moved thousands of miles across the globe. If they want to break out of the human trafficking industry and succeed, they must learn their way around a new culture and a new language—all while trying to understand the basics of how to manage money.

Lead others to financial peace! We will show you how. Click here.
One organization in California is helping former trafficking victims succeed. The Refugee Save Haven (RSH) in Los Angeles began using Dave Ramsey's Financial Peace University in 2009. RSH is a transitional shelter for African women who are victims of domestic violence and human trafficking. The shelter has served women and their children from 37 different countries in the last nine years.
Through the principles of Financial Peace, RSH empowered the women to save money and make a way for themselves in an unfamiliar culture.
"I really wanted to supply an in-depth financial literacy to the women in our shelter," says Diane Gohl, a volunteer and the FPU class coordinator at RSH. "So often I feel the poor do not have the information needed to succeed in our society. This is compounded for the immigrant population. I want the women to know more than how to fill out a check. I want them to know how to really succeed on a greater level once they have a job. In other words, how to save, how to invest, what types of insurance they need, and so on."
After the shelter completed the FPU course, Gohl noticed a change in the women. "I believe this course has motivated the women to begin a sewing business while living in the shelter to help create income so they are in a better place, financially, when they leave," she said. "Seeing the big picture really helped create the desire and direction."
Gohl said Dave's lesson about saving money was the most important principle the women learned. "This really seemed to impact each of them. If they apply this principle, they'll be way ahead of most Americans!"
Thanks to the Refugee Save Haven, along with Dave's tried-and-true financial principles in FPU, these women are no longer forgotten, and they are preparing to step out into their communities and make a difference.