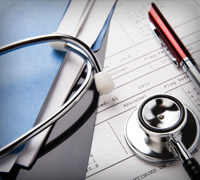 Think you don't need health insurance? Think again!
Of course we're all looking to save money wherever we can. But one area you don't need to skimp on is health insurance. One of the most listed reasons for bankruptcy is unpaid medical bills.
There are heard hundreds of horror stories about young, single people who choose not to get health insurance because they think they're healthy. Well, you may be healthy at the moment, but you don't know what's going to happen tomorrow! Health problems and accidents seem to happen when you least expect it, always at the worst possible time. Now the single person, who thought he/she was healthy and didn't need insurance, is between a rock and a hard place. So what happens? He/she usually ends up charging the medical bills on a credit card. Within just a few weeks, a once healthy person is worrying about thousands of dollars of debt.
Such situations are even sadder when the same mistake is made by a family. The family ends up having to sell their home. Husband and wife fight about money. The husband works 90 hours a week and never sees his kids. The family slowly starts to fall apart. It's an ugly situation that happens every day.
But it doesn't have to be that way. Having a good health insurance plan could be the one thing that keeps you and your family from falling into a downward spiral of debt.
Dave recommends a health insurance agent you can trust who lives in your area. Find one now.