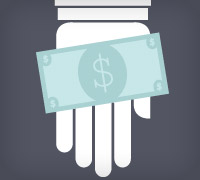 If you're one of the estimated 2.2 million taxpayers who overpaid the IRS a total of $1 billion in past years, there is good news! You can reclaim your cash by filing an amended tax return.
Why Amend?
An amended return is simply a correction to a previously filed tax return. Simply put, you want to amend your taxes to reclaim any money you overpaid the IRS, which happens more often than you think. You should also amend a past return if your filing status, income, deductions or credits are incorrect on your original return. A mistake on any of these can lead to a higher tax bill or a larger refund—we'll hope for the latter.
How Often Are Mistakes Made?
More than 60% of homeowners in 2002 (the only year these numbers are available) took the standard deduction when they could have saved money by simply claiming the deductions for their mortgage interest, real estate taxes and local income taxes. Another 27% of taxpayers overpaid their taxes because they didn't claim their deduction for charitable giving.
Facts about filing an amended tax return:
Generally, you must amend your return within three years of the original filing date.
If you're claiming an additional refund, wait until you receive your original refund to file your amended return.
You cannot file an amended return electronically.
Allow 8–12 weeks to process your amended return.
Talk With a Pro and Save
If you suspect you've overpaid your income taxes in past years, a tax professional can help you discover and correct your mistakes while making sure you don't overpay again this year.
Laura Wagner from Vega, Texas, consulted one of Dave's tax Endorsed Local Providers (ELPs) when her son's tax bill came to $4,000. The ELP saved her son $3,937 and, as a bonus, saved Laura $1,800 on her taxes, too!
Steve Moore, a small-business owner in Middle Point, Ohio, had already completed his taxes but decided to consult his ELP before he filed his return.
"Wow! Am I glad!" he said. "He saved me about $3,000 more than what I was going to file!"
Don't Wait To Find Your Tax Pro
Like Laura and Steve, you can find an ELP you can trust to make sure you don't overpay your taxes. Dave's ELPs are tax professionals who have the heart of a teacher. They'll take the time to answer your questions. Don't wait for tax season crunch time. Get in touch with your tax ELP today!