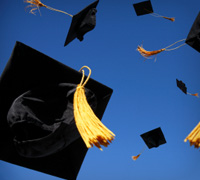 Graduation day is approaching for many high school and college seniors, and you may be wondering what you can do to celebrate without blowing the budget. Thankfully, it doesn't take fancy gifts, expensive trips or elaborate parties to show how much you care! In fact, sometimes the simple things are the most meaningful of all.
Good Friends, Family and Food
A backyard BBQ is a tried and true way to have a great time! Good food, good company and some sincere congratulations will make for an event no one will soon forget.
MyTotalMoneyMakeover.com member Lmyer said they barbequed at the house when her youngest child graduated last year. "We probably had 50 people there, and it was a blast!" Lmeyer said. The kids and (a few parents) played volleyball, and everyone had a great time chatting. "It was a relaxed, fun event, and we had it the week after graduation so it wouldn't conflict with all the other kids' parties." They were only out the cost of food, drinks and some simple decorations—which is exactly what they had budgeted for.
"In our family, we usually celebrate with a family picnic in the park," said MyTMMO.com member JOinMO. "Reserving the pavilions is usually free or very inexpensive. We have some minimal decorations, homemade food and the kids are free to play."
Here are a few more ways to keep costs down without sacrificing memories:
Instead of having invitations printed, make a fun online invite that captures the graduate's personality, and send out the link! Paper, printing and stamps can add up quick. Sites like Evite.com are free and easy to use.
When making the guest list, consider adding some people who have been significant in your kid's life like a youth leader, teacher or coach.
Ask for a list of your graduate's favorite foods and incorporate them whether they "go with the menu" or not. A five-star dinner can't compete with a list of home-cooked family favorites!
Adventure Versus Luxury
A lot of people will celebrate their big accomplishment by going on a trip they can't afford, which is not the way to go. But that doesn't mean a getaway is out of the question if that's what would mean the most to your graduate. Just think adventure instead of luxury.
Camping is a great way to have some affordable fun. Get a group of friends together and head to a state park for an overnight trip!
Another adventurous getaway is a road trip! Find somewhere within driving distance, spit the cost of gas with friends, and pack a picnic.
And remember, there's always the option of a "staycation." Vacationing in your own hometown can be a lot more fun than you might think!
Making it Memorable
As Dave and his wife, Sharon, were raising their three kids, one of the things they talked a lot about was "the rope." As their kids showed more character and responsibility, they lengthened the rope, so to speak, by giving them more trust and privileges.
When Dave's oldest daughter, Denise, got ready to go off to college, Dave went down to the craft store and bought some drapery cord to symbolize "the rope." He tied ribbons of all different colors around it: white for purity, red for academics, yellow because she can still come home and dad's always got her back, orange because she's a Tennessee Vol and purple for her spiritual walk.
He and Sharon sat down with Denise in the living room and told her how proud they were of the young woman she had become. "After all these years of talking about the rope, I can totally trust you to run your life the way I see that you should run it for your own sake," he told her. "Now you've got to make the call."
When he gave her the rope, he explained what each of the ribbons meant. "You are now an adult. You now hold your life. We're going to back you. We're going to finance the education as promised," he said, "but I'm not going to be breathing down your neck on every decision. You know what to do."
He said he figured the rope was one of those "dad things" that would get tossed in the bottom of a box somewhere. When he went to visit her a couple of months later, the cord was hanging on her bedpost in the dorm. "What's up with that?" he wondered.
"I tell every girl on the floor about it!" Denise told him. "They all want to hear the story—it's awesome!"
You don't have to spend a lot to give your graduate a gift they'll never forget. If giving money or gifts fits into your budget—go for it. Just know that if you get creative, you can come up with a really meaningful, memorable and affordable way to say "Congrats!"