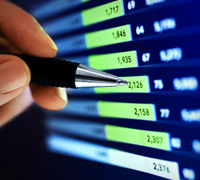 If you ever wanted to make money investing in the stock market, the last two years were the perfect time to do it. Do you find that hard to believe? That's not surprising. Ever since the market slide of 2008–2009, financial "experts" have warned investors that low returns are the "new normal." That it is unwise to expect the market to turn around in our lifetimes.
But that advice completely ignores the fact that the market has regained about 80% of the ground it lost in less than two years. Even more importantly, money invested at the bottom of the market in March of 2009 has seen an 80% increase in value as of mid-December!
Emotional Impact
There's no denying that investors had a reason to be shaken by the downturn in the market. Losing half in just six months of what you've worked years to build up is not just about numbers, it's about emotions. To continue to invest in that kind of environment takes courage and a radically different way of thinking.
Even members of Dave's team were affected by the market uncertainty. Michael Morton, Marketing Director for the Endorsed Local Provider program, began investing in mutual funds outside his 401(k) about the time the market began its decline.
"It was really difficult to see my investments go down in value so dramatically," Morton said. "I wondered if I'd made a mistake by investing that extra cash."
Like Morton, Jack Galloway, Head of Strategic Alliances, felt the pain of those losses, but he made the decision to keep investing despite the downturn.
Bottom-Line Impact
"The reality is that money that went into the market as the drop became severe was really beautifully timed," Galloway said. And that is the key to making money by investing in the stock market—do it and keep doing it, with every paycheck, whether the market is up or down.
"I know that Dave and my investment advisor are smarter than I am about investing," Morton said. "So I decided to listen to logic and ignore my fear. And I'm glad I did. Now my investments have stopped losing money and are worth more than I put in!"
Here's a hypothetical portfolio for an investor who began investing $12,000 a year ($1,000 a month) in January 2005. The investments are equally divided between the four types of mutual funds Dave recommends:
| | | |
| --- | --- | --- |
| Portfolio value in December 2007: | | $45,000 |
| | + | $12,000 annual investment |
| Portfolio value in December 2008: | | $35,000 |
| | + | $12,000 annual investment |
| Portfolio value in December 2009 | | $63,000 |
By the third quarter of 2010, that investor would have nearly $79,000 in his mutual funds.
That's a 12.7% total return—in one of the worst markets ever. And that was only possible because this investor continued to put money into his mutual funds even as the market dropped.
Experience Makes A Difference
It's easy to see the wisdom of this simple investment strategy in hindsight. But actually continuing to invest as you watch your investment dwindle is another story. That's why it's smart to work with an investing professional like one of Dave's Endorsed Local Providers. Contact your ELP today!